BU Law Alumnae Named Top Women of Law by Massachusetts Lawyers Weekly
Susan Cohen, Lauren Goldberg, Caren Z. Schindel, Vicki L. Shemin, Sara Silva, and U. Gwyn Williams were honored for their significant contributions to the Mass. legal community.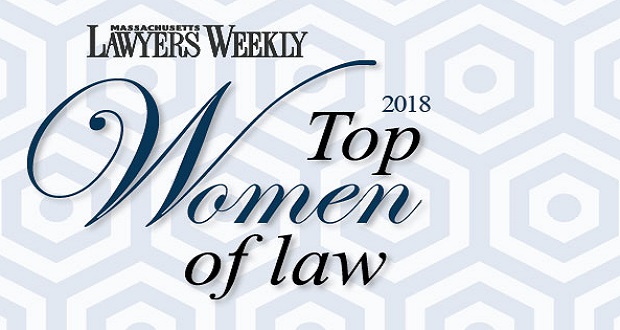 Six BU Law alums were honored at the Massachusetts Lawyers Weekly's annual celebration of the Top Women of Law on Thursday October 18. The ceremony "honors individuals who have made significant contributions to the legal profession while also serving as role models for young women entering the law," the magazine notes.
Susan Cohen ('88), Peabody & Arnold
Susan Cohen is partner at Peabody & Arnold, a member of the Women's Bar Association Alternative Dispute Resolution Committee, and serves as secretary for the board of directors for Frank J. Murray American Inn of Court. While the beginning of her career focused on litigation and trial advocacy, she eventually turned to dispute resolution and litigation claim management as well as professional liability defense, especially for lawyers and accountants. Cohen is dedicated to training, managing, and mentoring associates in every phase of their professional legal education.
Lauren Goldberg ('95), KP Law
Lauren Goldberg is a managing attorney at KP Law, where in 2013 she was named the firm's first female managing partner and a founding member of its government information and access group. The firm works exclusively on municipal law and as such, Goldberg regularly drafts and amends by-laws and ordinances, charters, and special acts. Before joining KP Law, she was legal counsel to the Office of the Secretary of the Commonwealth of Massachusetts, Elections Divisions.
Caren Z. Schindel (LLM'09), McLaughlin, Richards, Biller, & Schindel
A partner at McLaughlin, Richards, Biller & Schindel, Caren Z. Schindel draws on personal experiences with mental illness to help with her work at her divorce, elder law, and estate-planning practice. She participates in commonwealth guardianship work and takes on pro bono divorces involving domestic violence and substance abuse.
Vicki L. Shemin ('89), Fields & Dennis
Vicki L. Shemin is a partner at Fields & Dennis, where she practices family law. She applies the experiences from her own divorce along with her time as a clinical social worker to help her clients resolve divorce disputes without going to court. Shemin has taught business negotiations at Northeastern University and she also works as a parenting coordinator to help parents and their children improve their relationships.
Sara Silva ('99), Hogan Lovells
As a partner at Hogan Lovells, Sara Silva represents corporate entities in business litigation while simultaneously serving as the firm's first "pro bono partner." Silva finds pro bono opportunities for the firm and encourages her peers to take on the cases. She also guides young attorneys in how to handle pro bono cases while balancing their other clients and workload.
U. Gwyn Williams ('93), Latham & Watkins
U. Gwyn Williams is a partner at Latham & Watkins. At the start of her time at the firm, Williams was responsible for reanimating the global product liability and mass tort defense group, and starting a new litigation practice. She now leads two dozen litigators in the practice. Williams also serves as a pro bono advocate for juvenile justice issues. She has coauthored amicus briefs that influenced the Massachusetts Supreme Judicial Court in its decision to abolish mandatory life sentences without parole for minors.
BU Law alums are regularly featured on this prestigious list of legal leaders. For the past three years Massachusetts Lawyers Weekly has honored graduates of BU Law, including six alumnae in 2016. BU Law congratulates our accomplished alums and all honorees for this well-deserved recognition.
Update: February 15, 2019—A previous version of this article listed only three of the six alums honored as 2018 Top Women of Law. We apologize for this oversight.
Reported by Yadira Flores (CAS'19) and Shea Robinson (COM'21)
Related News