Congratulations, 2018–19 Student Advocacy Teams!
BU Law student successes in advanced appellate advocacy, negotiation, and client counseling competitions.
Boston University School of Law prides itself on its robust student advocacy program. From class-wide participation in the 1L Esdaile Moot Court Competition to advanced appellate advocacy in the Edward C. Stone, Homer Albers, or intramural moot court competitions, students develop skills that will have a direct impact on their future practice. Student advocacy teams prepare to compete against some of the country's top law students in appellate advocacy, negotiation, and client counseling competitions. Below, find results from completed competitions, and check back frequently for updates!
Jump to:
National Moot Court Team Wins Regional Round!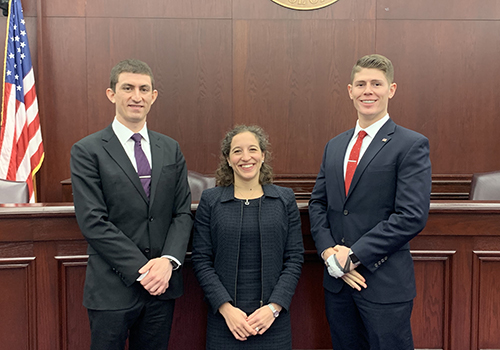 Congratulations to Alexandra Arnold, David Bier, and Jason Ecker (all '19), the BU Law National Moot Court team, who competed in and won the National Moot Court Region 1 competition!
The BU Law team was undefeated, winning their preliminary rounds against Vermont Law School and Western New England Law School, their semi-final round against UMass Law, and finally defeating Boston College Law School in the finals. In addition, Arnold won Best Oralist in the competition, and the team received the second-highest brief score. The team will compete in the national competition in New York in late January.
This year, the students argued two issues: First, whether a federal trial court in a given state may exercise general personal jurisdiction over a corporate defendant on the basis of that corporation's registration to do business in the state, and second, whether an autonomous vehicle that was involved in an accident while its operator was asleep is unreasonably dangerous.
Hosted by Roger Williams University School of Law, the pairing schedule was a difficult one: UMass won Best Brief (which accounts for 40 percent of each round), Vermont's brief score fell just half of a point below the team's, and Boston College entered the final round undefeated. Moreover, due to the vagaries of the coin toss, the BU Law team had to argue for petitioner—perhaps the more difficult position—in both the semi-final and final round.
"I'm extremely proud of these students for the many hours of uncredited, self-directed time they put in to writing their brief and practicing," says Jennifer Taylor McCloskey, associate director of the Legal Writing & Appellate Advocacy Program.
2018 Edward C. Stone Award Winners and Homer Albers Prize Moot Court Competition Invitees
Please join us in congratulating this year's participants in the Edward C. Stone Moot Court Competition. Sixty 2L students competed in the competition this year, and all of the participants worked extremely hard during what is an especially busy time of year. We had an especially strong group this year; the students' brief scores were, across the board, the highest I have seen in 11 years. In particular, we'd like to recognize the winners of the Best Brief and Best Oralist awards for each problem, as well as the Homer Albers Prize Moot Court Competition invitees, who are listed below. Please congratulate these students if you know them!
Best Brief
Rich Driscoll and Cameron Chan, and David Horton, co-winners for problem 1: Mandelay v. Kramerica Indus., Inc. 
Jacqueline Betz and Nadia Lee for problem 2: Maybee v. City of Pawned Knee Dept. of Parks & Recreation 
Gavin Tullis and Brad Baranowski for problem 3: United States v. Jones and United States v. Thompson 
Best Oralist
Raymond Myer forproblem 1: Mandelay v. Kramerica Indus., Inc.
Alexa Solimano for problem 2: Maybee v. City of Pawned Knee Dept. of Parks & Recreation    
Brad Baranowski for problem 3: United States v. Jones and United States v. Thompson 
Albers Invitees
Congratulations to the twenty-four students who have been invited to participate in the 2018 Homer Albers Prize competition this spring!
Giancarlo Ambrogio
Brad Baranowski
Suzanne Davies
David Horton
Jimena Mohedas
Martin Ryan
Tyler Shearer
Stella Swartz
Charlotte Armour
Jacqueline Betz
Michael Endick
Ian Hunley
Raymond Myer
Britt Saunders
Alexa Solimano
Deanna Tamborelli
Matthew Atha
Noah Cherry
Jessica Hartman
Stasie Levin
Elaine Ortyl
Julia Schur
Skyler Splinter
Gavin Tullis
BU Law Team Wins Regional American Bar Association Negotiation Competition!
Three teams, Maris Kramer Brosnan ('21) and Ainsley Tucker ('21), Baasil Shariff ('20) and Dante Spurlock ('20), and Calvin Utter ('21) and Olivia Strange ('21), competed in the regional round of the American Bar Association Negotiation Competition, hosted by New York Law School on November 2.
After three rounds of competition, Maris Kramer Brosnan and Ainsley Tucker prevailed, winning the regional round of the competition and securing their spot in the national round in February.
Aided by student-coaches Ryan McCarthy ('19), Kelly Moran ('19), Ahmer Qureshi ('20), and Tyler Stites ('20), the teams competed against 22 teams from 10 schools, including Colombia Law School, New York University School of Law, New York Law School, the Maurice A. Deane School of Law at Hofstra University, and the Benjamin N. Cardozo School of Law at Yeshiva University, among others. This year's theme was employment law, and the first negotiation required the teams to reach an agreement representing an employee who wanted to take additional leave time to help facilitate her adoption. In the second negotiation, the teams represented a law firm defending its unpaid summer internship program against a disgruntled intern.
The top four teams competed in the final round, in which each team was asked to represent a tour bus company in a negotiation with a bus driver who had recently become disabled and needed a new position. Kramer Brosnan and Tucker were titled co-champions with another team in the region, and finished the tournament with the highest cumulative score of all 22 teams.
"Throughout all three of their rounds, judges consistently noted that Kramer Brosnan and Tucker carried themselves with poise and professionalism beyond the level of most first-year students," Qureshi says. "Additionally, the judges found their ability to play to each other's strengths and balance their client's objectives with their opponent's a key reason for their success at the tournament."