Jim Wheaton Named Director of BU Law's Entrepreneurship & Intellectual Property Clinic
Prior to joining the school, Wheaton's legal practice focused on corporate and securities law.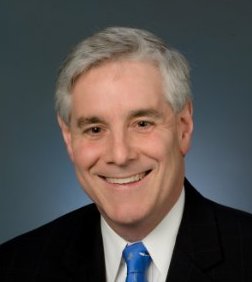 Jim Wheaton has been named a clinical associate professor and director of the Boston University School of Law Entrepreneurship & Intellectual Property Clinic, where BU Law students represent MIT and BU students in various aspects of establishing and operating early-stage business ventures and protecting intellectual property. His research interests include the intersection and reconciliation of business entity law with other legal frameworks (including bankruptcy).
Prior to joining BU Law, Wheaton served as general counsel, chief compliance officer, and vice president of legal and governmental affairs at Liberty Tax, and partner and chair of the mergers, acquisitions and business ventures practice group at Troutman Sanders LLP. He also taught adjunct courses at the University of Virginia and William and Mary Law Schools. His legal practice focused on corporate and securities law. He represented companies in startup, M&A, and general corporate work in a variety of industries, as well as both issuers and underwriters in public and private securities transactions.
Wheaton became involved in the early stages of the national development of the limited liability company when he joined the drafting committee for the first Prototype Limited Liability Company Act. He has since served as chair of the ABA Business Section's LLCs, Partnerships, and Unincorporated Entities committee and as an ABA representative to Uniform Law Commission drafting committees. He is the director of research for the ABA/ULC Joint Editorial Board on Uniform Unincorporated Organization Acts and is the coauthor of an LLC practice manual. In 2015, Wheaton received the Martin I. Lubaroff Award from the American Bar Association for leadership, scholarship, and service in the field of LLCs, partnerships and unincorporated entities law. He is a fellow of the American Bar Foundation. From 2013 to 2016, Wheaton was a member of the ABA Commission on Disability Rights.
Wheaton received his law degree from the University of Virginia School of Law, where he was executive editor of the Virginia Law Review and a member of Order of the Coif. Following law school, he clerked for Judge J. Dickson Phillips Jr. of the United States Court of Appeals for the Fourth Circuit.
Part of the Entrepreneurship, IP & Cyberlaw Program, the Entrepreneurship & Intellectual Property Clinic launched in 2015 in partnership with MIT. In the clinic, students advise student entrepreneurs from MIT and BU who are seeking to establish or develop real businesses. Students provide strategic legal and business advice to startups, assisting student entrepreneurs in the BU and MIT communities with the corporate, transactional, and intellectual property issues that arise in the process of turning their ideas into operating businesses. Working under the guidance of the clinic directors, students manage each step of the client relationship, from the initial intake interview through the completion of the engagement.
Related News