BU Law Students Use Spring Break to Provide Pro Bono Legal Assistance
JD students volunteer with 10 different organizations to give pro bono legal aid to communities in need.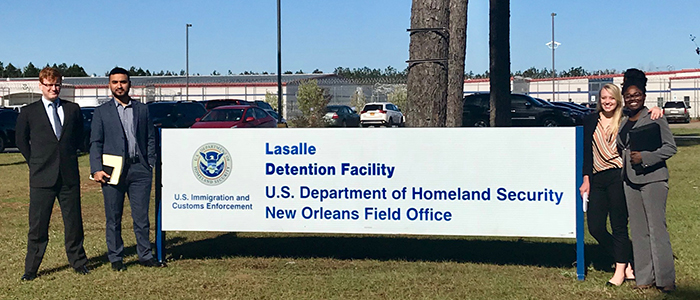 Boston University School of Law students recently travelled throughout the country to bring legal services to those in need. Through the Career Development & Public Service Office, 49 JD students participated in the annual Spring Break Pro Bono Service Trip program.
The participants traveled to Michigan, Louisiana, New York, Maine, and Puerto Rico. A third of the students remained in Boston to aid local entities. Professors and law school staff also joined various trips to contribute service alongside the students.
Chloe Sugino ('20) had special ties to her pro bono trip to Puerto Rico. The team traveled to her hometown of San Juan to work with Ayuda Legal Huracán Maria providing legal services and counseling. They worked on client interviewing and intake focused on FEMA appeals and other housing issues that have arisen since Hurricane Maria hit the island in September 2017.
"Throughout our week, we drove all around the island attending trainings and helping interview potential clients in legal 'brigades' that the organization held in small, hard to reach communities. It was both interesting and saddening that the farther away we were from San Juan, the more apparent the damage from the hurricane was—I am happy that I was able to contribute, even in the limited way that I could, to the welfare of my home and my family."
Mario Paredes ('18) went to Jena, Louisiana to support Southern Poverty Law Center attorneys with the Southeast Immigrant Freedom Initiative. The BU Law students went to the LaSalle Detention Center to perform client intakes, draft supporting legal documents, and even provide representation to a client during their bond redetermination hearing.
This is Paredes' second pro-bono trip. His first was to Harlingen, TX to work with the South Texas Pro Bono Asylum Representation Project.
"I went to Texas during my 1L year and that was one of the best experiences in law school for me. I decided again this year, as a 3L on my way to graduating, to go back and do the same thing again with a different organization. For me, this trip was important both for personal and professional reasons. Personally, I have family members who are affected by the anti-immigrant policies that have been implemented," he says. "This trip also allowed me to get a better sense of what's happening with the immigration system throughout the country."
Students partnered with attorneys at these organizations:
Interested in helping students engage with pro bono projects? Please contact the Career Development & Public Service Office, or for more information about BU Law's Pro Bono Program, email probono@bu.edu.
Reported by Josee Matela (CAS/COM'20)
Related News