Colleagues Pay Tribute to Professor Larry Yackle with Symposium on Federal Courts
BU Law faculty, students, and staff gathered to examine the role of the federal courts in our constitutional system.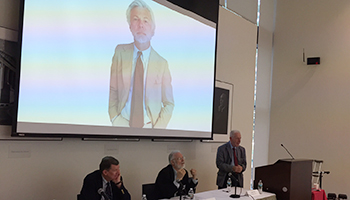 To honor Professor of Law emeritus Larry Yackle, Boston University School of Law faculty and colleagues gathered for a symposium on September 15 to discuss the role of the federal courts in our constitutional system.
The event was organized by Professor of Law Pnina Lahav, and was opened by Dean Maureen A. O'Rourke, who made a connection between the federal courts and the pursuit of the values embedded in the preamble to the US Constitution. The remarks covered both scholarly topics and personal, sometimes emotional tributes to Professor Yackle.
The event began with Professor of Law emerita Fran Miller sharing images of the seven scholarly books Yackle has written over the course of his career. Then she turned to photos that captured his personal life: attending baseball games in Puerto Rico, sailing in Boston Harbor, and enjoying the views from the veranda of his vacation home.
University of Texas School of Law Professor Michael Churgin opened his remarks by describing Yackle as the "nation's leading expert on habeas corpus." He discussed the Antiterrorism and Effective Death Penalty Act signed by President Clinton that limited the power of federal judges to grant relief in habeas corpus cases, and then traced the ramifications of this law to current battles between states and the federal government over immigration enforcement.
University of Hawaii School of Law Dean Avi Soifer, who taught on the BU Law faculty for 13 years, recalled how his two-year-old son had referred to Yackle as "Mr. Habeas Corpus." Referencing the professor's extensive portfolio of scholarship and long teaching career, he paid tribute to his "abiding hope for and commitment to basic fairness." He quoted several passages from Yackle's books, including recollection of his time as a young lawyer representing inmates at Leavenworth Prison: "The lesson I learned at Leavenworth is that federal courts are special. They are the most splendid institutions for the maintenance and individual liberty that humankind has ever conceived. They work, you see. And they ensure that the rest of the framework we call constitutional democracy also works."
The second panel, chaired by BU Professor of Law Alan Feld, a longtime friend of Professor Yackle, began with Steven Suitts, the founding director of the Alabama Civil Liberties Union. He spoke about his time working at the advocacy organization with Yackle in the mid-1970s, ticking off their many accomplishments: Closing down George Wallace's spy commission, stopping about 100 schools from requiring students to recite a Christian prayer, and ending Auburn University's practice of giving tuition discounts to the children of ministers. He ended his commentary with a tribute, citing a quote from the poet Stephen Yeats: "Think where man's glory most begins and ends, and say my glory was I had such friends."
The symposium concluded with comments from BU Professor of Law David Seipp, a legal historian. He spoke about the "romance of the federal courts" as an idyllic notion that these courts' rulings were always highly principled, then gave a brief history lesson of some of the questionable rulings of the US Supreme Court during the first half of the 20th century. Closing on an optimistic note, he declared: "We need heroes in black robes to speak law to power."
Related News