Karen Pita Loor Testifies before Mass. Joint Committee on Public Safety and Homeland Security
The professor offered her expertise as a law professor and an immigrant on a bill that intends to make Massachusetts into a sanctuary state.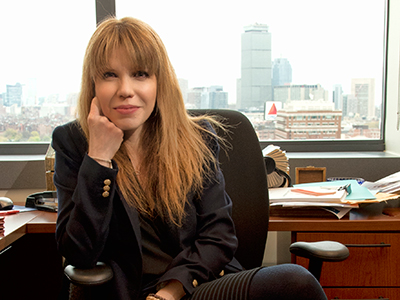 Clinical Associate Professor of Law Karen Pita Loor testified before the Massachusetts Joint Committee on Public Safety and Homeland Security on Friday, June 9, 2017. 
"My perspective today is based… on my experience as a teacher at a university with a diverse student population and on my own background as a Latin American child immigrant," Loor declared in written testimony she submitted to the committee.
Loor testified in support of the Safe Communities Act, a bill sponsored by State Senator Jamie Eldridge and State Representative Juana Matias. The bill would make it illegal for state and local law enforcement agencies to arrest or hold people based on their immigration status, act as immigration officers, or share information with federal programs that register people "on the basis of race, gender, sexual orientation, religion, or national or ethnic origin."
Loor appeared as part of a panel assembled by the MIRA Coalition, an advocacy group for immigrants and refugees in the Commonwealth of Massachusetts. She testified to her experience with immigration issues from her vantage point as a professor who teaches about the legal obstacles that immigrants face in American society: "For my students, the new administration's targeting of noncitizens and Massachusetts' response is forefront on their mind; this is regardless of their citizenship or immigration status," she wrote. "This anxiety stems from the fact that their friends or family members are immigrants, they work with immigrant or refugee populations, are Latinx or part of another minority group that is often perceived as undocumented, are Muslim and feel targeted, have personal involvement with the immigration system or simply care about the rights of their fellow community members."
These students, she testified, appreciate the Massachusetts cities and towns that have adopted policies similar to the Safe Communities Act, and they wonder "why every place in Massachusetts is not a sanctuary."
At BU Law, Loor teaches in the Criminal Law Clinical Program, as well as an immigrants' rights seminar. An experienced defense attorney and a native Spanish speaker, Loor has advocated for a number of immigrant clients in criminal court. Before coming to BU Law, Loor oversaw the Immigrant Children's Justice Clinic at Florida International University.
Loor published a paper in 2016 called "A Study on Immigrant Activism, Secure Communities, and Rawlsian Civil Disobedience." She analyzed successful protests by immigrants against the Secure Communities (SCOMM) program. In participating SCOMM communities, any individual booked into jail has their fingerprints run through Immigration and Customs Enforcement database. Loor used the theories of philosopher John Rawls to argue that the program represented "a violation of basic liberties." She noted that the Trump administration was reviving the SCOMM program and developing other anti-immigrant policies. "Immigrant activists," she urged, "must integrate effective strategies they used to oppose SCOMM and apply them to solidify support at their home jurisdictions in defense of intrusive nativist federal directives."
BU Law students and faculty have been active in the field of immigration law. This past spring, four 2Ls in the Criminal Law Clinic worked with Professor Loor to write an amicus brief for an immigration case before the Massachusetts Supreme Judicial Court. BU Law clinics have also been working with the PAIR Project to teach Know Your Rights workshops to immigrants in the greater Boston area. In April, the school hosted the Strategic Engagement Forum, at which a panel of immigration experts discussed recent developments and urged young lawyers to get involved in activism on behalf of immigrants' rights.
Reported by Trevor Persaud (STH'18)
Related News