Christina Michelle Christodoulou ('16) Joins Medtronic
The Class of 2016 graduate navigates complex commercial agreements and compliance issues as a legal fellow.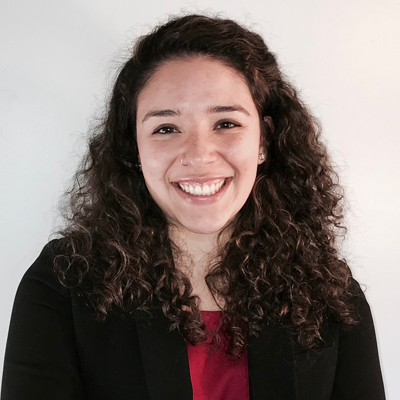 Before attending Boston University School of Law, Christina Michelle Christodoulou ('16) majored in environmental studies and political science at Queens College, City University of New York. When she was applying to law schools, the excellent reputation of the School's professors appealed to her. "Far and away my main reason for choosing BU was the professors," she says. "I really wanted my law school experience to be a rich one. I knew the key was professors that really cared about teaching and would dedicate time to their students, and that is exactly what I found at BU."
Now a legal fellow in the commercial legal department at Medtronic, one of the largest medical technology companies in the world, she is primarily responsible for drafting and reviewing commercial agreements, but she is also gaining experience with compliance, intellectual property, and litigation.
While in law school, Christodoulou was an article editor with the Public Interest Law Journal and participated in the moot court program. In her third year, she competed in the Duberstein Bankruptcy Moot Court Competition at St. John's University School of Law, applying what she learned about bankruptcy law with Professor Frederick Tung in a setting that allowed her to develop foundational lawyering skills. "Both experiences were instrumental in helping to develop and hone my legal writing," Christodoulou says. "They were also both great experiences in teamwork and developing a finished product in collaboration with others."
In addition to Professor Tung, Professor Keith Hylton was especially influential. "He's one of the most diligent and brilliant people I've ever met," she says. "It's clear that he puts careful work into even the simple things that he does, and he challenged his students to do the same. I try to continue applying that same thoughtful manner to everything I do."
Christodoulou recently completed due diligence for a potential international acquisition—a challenging project that involved an array of moving pieces, including learning about and navigating international laws and ensuring that the foreign entity would be compliant with US laws. "Even when it seemed to make sense from a revenue perspective, it would face challenges from an integration perspective," she says. "It was fascinating to participate in the deliberation and decision-making process."
Tasked with ensuring that ongoing projects within the company meet legal requirements, Christodoulou has been helping draft an agreement to live-stream surgeries so one team can learn more about how their products are being used. She also helped resolve a conflict with a manufacturer over a product liability issue by mediating the discussion and providing legal background on the Food, Drug, and Cosmetic Act and other legal requirements.
Christodoulou chose to pursue a law degree after working with a law firm as an undergraduate, where she focused mainly on matrimonial law. She enjoyed the challenge of dealing with clients who were facing delicate and life-altering problems. "I really enjoyed being there for them and using knowledge of the laws and court system to bring them the best possible solution in those difficult times," she says. "Today, I continue to use those interpersonal and problem-solving skills as well as my legal knowledge to solve a variety of complex problems at Medtronic."
Reported by Matthew Fils-Aime (COM'17)