First Woman to Head 'Big 4' Accounting Firm in Boston
Jane Steinmetz (JD'93, LLM'97) named managing principal at Ernst & Young LLP.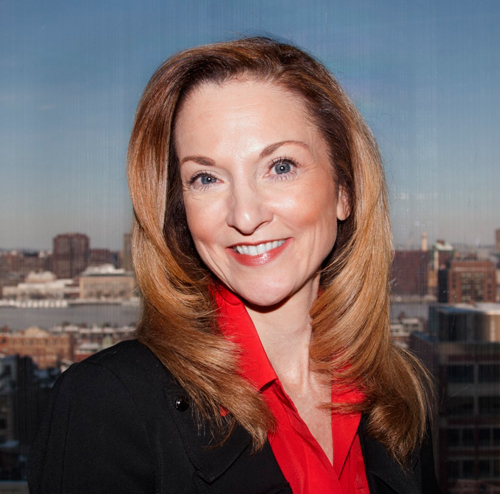 Jane Steinmetz (JD'93, LLM'97) has spent more than 20 years succeeding in state and local tax law. She began working in an accounting firm immediately after completing her JD at Boston University School of Law, and soon after returned to earn her LLM in Taxation. In June, she'll take the helm of Ernst & Young LLP (EY)'s Boston office as managing principal—the first woman in that role in any of the "Big 4" accounting firms in Boston.
Steinmetz knew she wanted to continue her academic career after completing her undergraduate degree in accounting. "I've always loved taxes, and BU has an excellent reputation in the tax law field," she says.
At BU Law, Steinmetz valued classes on property law—especially when it covered real estate law—estate tax, and constitutional law. "People think of taxes as a lot of numbers," she says, "but it's really a lot of research and writing. My constitutional law class was fabulous, and I still reflect back on it to this day as I'm analyzing tax matters."
Beyond her coursework, summer internships with the Rhode Island Department of Revenue and Coopers & Lybrand focusing on state and local tax issues helped shape the path of her career. She took those first experiences and began working with Coopers & Lybrand—later PricewaterhouseCoopers (PwC)—after graduation. Over time, and with the help of BU Law's Graduate Tax Program (GTP), she broadened her state and local tax focus while focusing on the financial services industry.
"[The GTP] is a gem of a program," she says. "It's a phenomenal education. A lot of my professors had really distinguished academic careers, and others had solid, practical work experience. The program does not just cover the basics of tax law, but it also covers advanced taxation, international tax law, and the taxation of financial instruments. It provided me with an in-depth education in the tax field that has been invaluable."
In 2011, when EY asked Steinmetz to lead the financial services state and local tax practice nationally, she made the move. After 18 years at PwC, she says it was a difficult decision, but the opportunity to practice at the national level and work with another distinguished Big 4 made it worthwhile. Since joining the firm, she's expanded further, working across service lines into advisory, assurance, and transactional services.
Steinmetz's new position will give her the opportunity to work across all industries and service lines to cultivate new relationships and serve existing clients in the New England area. She will also partner with business leaders and local government to offer points of view on state policy matters.
"I'm very proud that EY was the first to nominate a woman to lead  a Boston Big 4 office," she says. "There are a lot of benefits to gender-balanced leadership, and this move exemplifies where the Big 4—and the accounting industry—need to be."
With more than 20 years of experience working in the accounting industry and raising a family, Steinmetz has tried to share her personal experience with younger women in one-on-one meetings, group sessions, or panel discussions. She tries to encourage women and show them that they can attain their goals.
As office managing principal, she will have the opportunity to lead the 2,000 employees who call  the Boston office home. She will also work with affinity groups and women, to make sure they have the support, the funding, and the participation from the office they need to succeed. "I look forward to engaging with our professionals to discuss their career paths and help them achieve their goals," she says. "I'm very proud and honored to assume the OMP role for the EY Boston office."
Related News