Massachusetts and Health Reform: What Comes Next
Representative Jeffrey Sánchez delivers BU Law's annual Pike Lecture.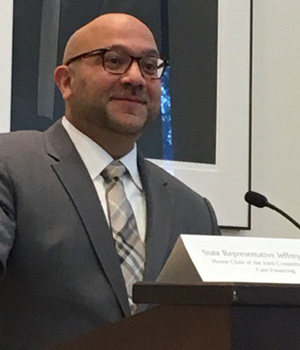 Boston University School of Law's twelfth annual Pike Lecture was delivered by Massachusetts State Representative and Chairman of the Joint Committee on Health Care Financing Jeffrey Sánchez. Titled "Massachusetts and Health Reform: What Comes Next," the lecture focused on the Affordable Care Act, the new administration's plans for federal reform, and what this means for Massachusetts.
Noting that 13 percent of Massachusetts's gross domestic product is related to the medical field, Representative Sanchez stressed the importance of health care to individuals and policymakers in the state. The high value that residents have placed on health care has resulted in a great deal of innovation in the state's efforts to reform its health care system. President Barack Obama modeled the Affordable Care Act (ACA) after the Massachusetts health care bill of 2005–2006, which became a law in 2012. Since its passage, 98 percent of the population of Massachusetts is insured through this state law, which has become a growth benchmark within the field.
Representative Sánchez pointed to the large health disparities in the nation as a whole when considering the policy changes that may be made by President Donald Trump's administration, which campaigned on a promise to repeal and replace the ACA. However, since the administration has recently moved away from the language of "repeal and replace" to "reform and repair," policymakers—along with people in the health care field—do not yet know what exactly this will mean. "In the 'repair' world we live in, people's reactions will determine the outcome and influence lawmakers," he said.
Noting that since the election, 1.9 million people have signed up for coverage under the ACA, Sánchez suggested that the people who are fighting for the ACA understand how losing the health care will affect both themselves and their families. As for what this means for Massachusetts, the uncertainty over what will come next with the ACA will affect how state legislators address, monitor, or regulate current health policies. However, Sánchez stressed that Massachusetts is committed to bipartisan health care reform. "What we did in 2005 and 2006 regarding health care was a big deal," he said. "But how we did it was even more impressive. Everybody had a stake."
>> Listen to the full lecture.
Reported by Laura LoTurco ('19)