Entrepreneurship & IP Clinic Helps BU, MIT Student Entrepreneurs
Students reflect on their experiences in one of BU Law's innovative clinical programs.
The Entrepreneurship & Intellectual Property Clinic, a collaboration between Boston University School of Law and Massachusetts Institute of Technology (MIT), launched in fall 2015 and has been working to bring MIT and BU student entrepreneurs together with BU Law students to help turn ideas into businesses.
This year, the clinic was made up of eight law students who, under the supervision of Clinical Instructor Eve Brown, advised and represented MIT and BU student entrepreneurs. Since its launch in September, the clinic has seen wide success. Serving over 75 clients, the Entrepreneurship & IP Clinic has assisted student entrepreneurs in the early phases of their startups on issues of entity selection and formation, intellectual property, contracts, equity development, data security, finance, and employment matters.
"This clinic has been phenomenal. I've learned so much about interacting with clients, professional responsibility, how to work in group settings and how to explain legal terminology to people who have no experience with the law," BU Law student Sudeshna Trivedi ('16) says.
Every Friday, the clinic holds open office hours from 10 a.m. to 5 p.m. at the Martin Trust Center at MIT for student entrepreneurs looking to seek legal advice on their ideas.
"If somebody has a question and they're not sure if they're right for the clinic then they'll come in and speak with us. We'll do an initial interview to try to assess what their needs are and if we can help them, then we'll meet with them at a future time. It's a good way to meet the startups," says Brown.
In addition to holding open office hours every Friday, the clinic also provides a variety of seminars and discussions covering various legal topics for student entrepreneurs to attend.
"We've had each of the clinic's law students give a seminar once a month on a legal topic of interest to entrepreneurs over at MIT," says Brown. "They'll give a free lunchtime seminar on topics like crowd funding or IP basics. Basically things that would help startups or answer frequently asked questions."
With the outpouring of student entrepreneurs seeking legal advice, one of the challenges for the clinic has been keeping up with the high demand. BU Law students advise roughly four to five clients per semester, some of which may carry over to the next semester.
"Some Fridays it's just been around the clock, people coming in non-stop and we have to struggle to find space in the building to meet with them privately," says BU Law student Benjamin Esparza ('16). "Sometimes it's been a little slower. It ebbs and flows. The madness is fun and sometimes the break is much needed."
"It's a blessing and a curse in the sense that there's never a dull moment. We're always busy and we're always learning so much." Trivedi states.
With the high demand of clients, law students have been able to balance a variety of responsibilities, as each client's case is unique.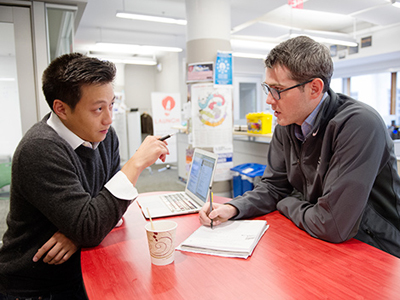 "Right now I'm working on advising a client on what type of entity they want and am in the process of drafting documents to file with the state," Trivedi says. "I've also drafted terms of service and privacy policy. I've written a memo about the copyright implications of a book that a student was writing."
"I think I've really learned to put myself in the shoes of the entrepreneur and try to figure out what their biggest business risk is and try and help them solve that in the limited time we have," says BU Law student Nathaniel Gray ('16).
With a team of eight student attorneys and one supervisor, the clinic strives to meet the high demand of clients. However, according to Brown, with such high demand, it is important to be transparent with clients on the type of legal support they would be receiving.
"Our student attorneys are learning as they go and so it's really just about being honest and upfront with the client about the benefits and drawbacks of being a client of a clinic," says Brown. "The benefits are that you get these really dedicated students who really love to serve and are doing their best at this. The downside is it takes a little longer, we're doing it for the first time."
The Entrepreneurship and IP Clinic will continue serving clients in the fall. Gerald P. O'Connor has been appointed as the next director of the clinic as Brown will be leaving BU in July with the launch of her new law firm called Bricolage Law that will provide a complementary resource for startups and independent businesses in need. Brown has hired Trivedi, one of the clinic's law students, as one of her first associates.
A new Technology and Cyberlaw Clinic will also be added under the direction of Harvard Attorney Andy Sellars. The new clinic will advise student entrepreneurs in the areas of cyber crime, privacy issues, data security, and intellectual property.
"I'm so grateful for the opportunity to be in this clinic. I couldn't have imagined this year without it," says Trivedi. "I've learned so much more that I could have ever done with just taking classes."
Reported by Greg Yang (CAS'17).