Events
"Birth and Rebirth in Pre-Columbian Mural Painting"
Wednesday, October 1, 2015
Photonics – Colloquium Room, 9th Floor
8 St. Mary's Street, Boston University
Dr. Teresa Uriarte of UNAM will be presenting the lecture "Birth and Rebirth in Pre-Columbian Mural Painting". Co-sponsored by LASP. Reception follows immediately after the lecture.

"From the Holocaust to the Dirty War"
A lecture by Professor Federico Finchelstein (The New School)
Wednesday, September 17, 2014
Elie Wiesel Center for Judaic Studies, 147 Bay State Road, Boston University
"The New Barbarians: Brazilian Cultural Criticism After the End of Modernity"
Mar. 25 from 3-7pm (CAS 200, 725 Commonwealth Ave., Boston University)
We will receive several scholars, most from Brazil, pertaining to a new wave of cultural critics, at Boston University to discuss contemporary themes of Brazilian culture, especially: post-dictatorial voids, vagabondage and revolution, ideology and aesthetics, anachronism and fragmentation of culture, art and bananas, travel and nation, headless bodies, literature and anti-academicism, contemporary historiography of slavery, and the myth of Brazil as a paradise. And also some are going to be making special connections to Cuba.
All the talks will be in English but for the literary reading of Arthur Rimbaud's Latin Poems translated into Portuguese.
---
Mini Workshop: "Latin American Urban Experiences: Crisis, Creativity and Renewal"
Wednesday, April 9
2:00 to 5:00 pm
BU Pardee Center
67 Bay State Road
Click here to register. Registration Deadline: April 3
Co-Presented by The Pardee Center for the Study of the Longer-Range Future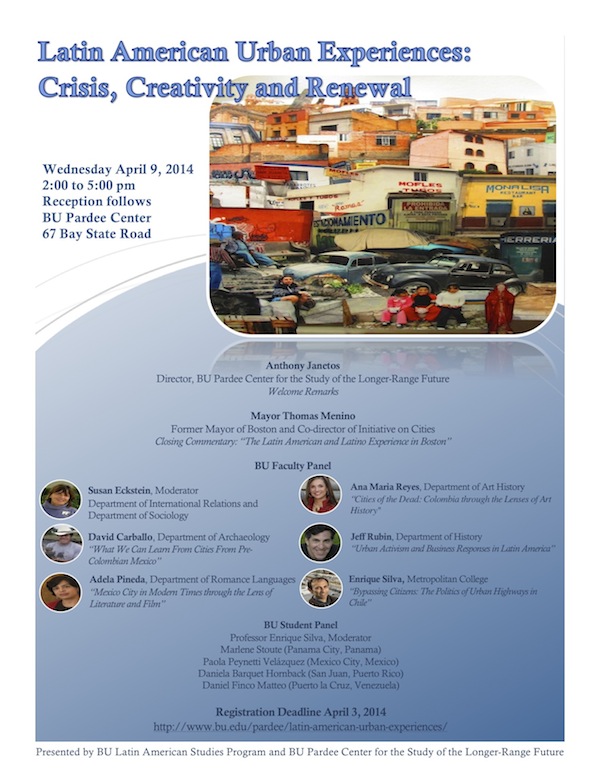 ---
"Literary Reading by Jacques Fux"
The Winner of the São Paulo Prize for Literature, Brazil (considered the equivalent of the Man Booker Prize in the Portuguese language)
From his novel Antiterapias. In Portuguese, with the English translation read by Ernest Hartwell.
Tuesday, February 4
5:00 pm
CAS 303A, 725 Commonwealth Ave, Boston University.
Refreshments and hors d'oeuvres will be served.
Jacques Fux has recently won the São Paulo Prize for Literature with his novel Antiterapias. He will be reading from this award-winning book, in the original, accompanied by the reading of the English translation by Ernest Hartwell. Fux was born in the city of Belo Horizonte, Brazil. He received degrees in mathematics and computer science, and later earned two Doctorates, one in Comparative Literature from UFMG and another in French Language, Literature and Civilization from Université Lille. He had previously published Literatura e Matemática: Jorge Luis Borges, Georges Perec e o OULIPO (2001).
About the novel: "Conscious of Portnoy's Complaint and Georges Perec constraints, the author uses short sentences to awaken the reader to images, sensations, and questions. Testimony, memory, masturbation, fiction, history, Cabala, Bible, and literature enclose and permeate the biography of a young Jewish man in his search for a place in the contemporary Brazilian ghettos which followed the diaspora. From an international perspective, Antiterapias shows what is both exotic and common about a small Brazilian Jewish community in the twenty-first century."
Sponsored by: Department of Romance Studies, Department of History of Art & Architecture, The Latin American Studies Program, and PUBBoston (Pesquisadores e Universitários Brasileiros em Boston).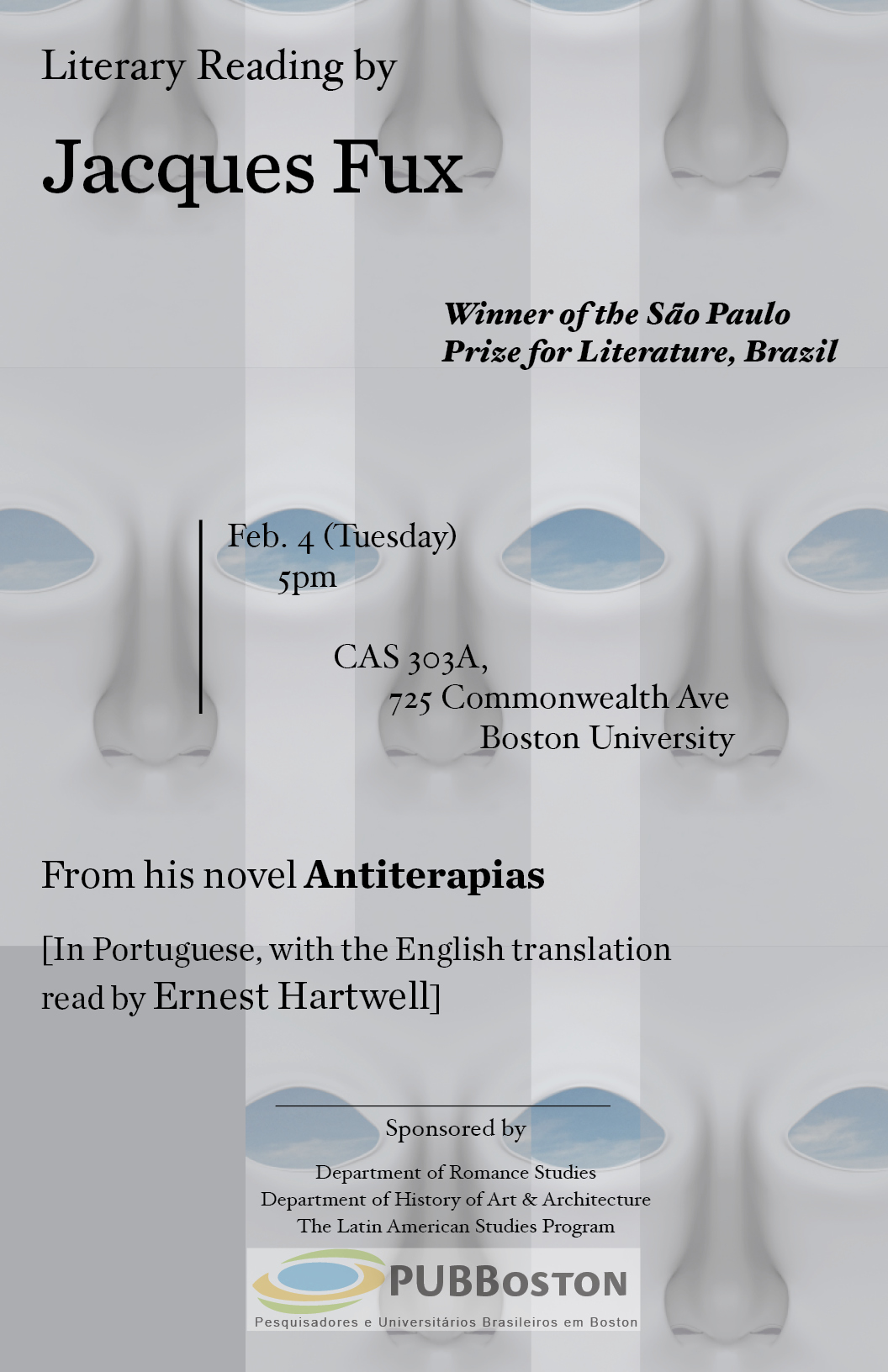 ---
"Pentecostalism and Politics in Brazil: An Emerging Player in an Emerging Power"
Paul Freston, Professor and Chair of Religion and Politics in the Global Context at Wilfred Laurier University
Monday, 3rd of March
4:00pm
CURA – 10 Lenox Street, Brookline
Co-sponsored with the Latin American Studies Program.