Class of 2023 Open House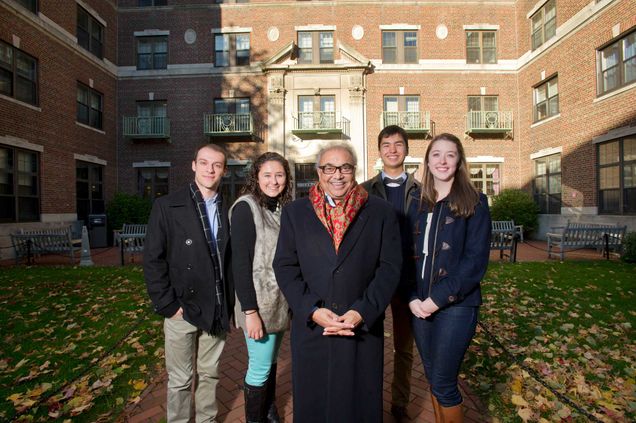 Our Open House events introduce students to the diverse academic and extracurricular opportunities offered at Boston University. We invite all admitted Kilachand Honors College students to join us for lunch and a building tour where you will learn about our unique curriculum and cohort-based residential experience.
Even if you've already visited Boston University, attending an Open House will give you a more in-depth view of Boston University and Kilachand Honors College. Join us to find out what it's like to be a Kilachand Honors College student! During lunch, Kilachand Ambassadors will be available to take you on a tour of Kilachand Hall, where all first-year Kilachand students live.
Dates, Times, and
Locations
Lunch at Kilachand Honors College will be a part of your Open House. You will register for a Kilachand Honors College lunch at the same time that you register for Open House; there is not a separate registration process. The Kilachand Open House lunch will be held at Kilachand Hall from 12-2PM on the dates below. 
Friday, April 5
Friday, April 12
Saturday, April 13
Friday, April 19
Friday, April 26
The Kilachand lunch does not conflict with other Open House programming and you should attend the lunch on the same day as your Open House visit. College of Engineering students will be met by a College of Engineering Dean's Host at Kilachand Hall who will escort you back to the College of Engineering for lab tours.
If you are unable to attend an Open House program, an alternative is the Admitted Student Visit (ASV). The ASV program consists of a student panel, admitted student tour, lunch, and information about your academic program of admission. A visit to Kilachand will be included in an ASV itinerary designed for you by BU Admissions, so you won't need to arrange a visit to Kilachand separately. 
Registration
Join us for an exciting day! Simply register for Spring Open House and your Kilachand Honors College reception via your MyBU portal, and we'll see you on campus soon!
Enrolling
Have you decided that Boston University and Kilachand Honors College are right for you? Congratulations! Visit your MyBU portal to officially enroll.
Open
Campus
We encourage you to take advantage of BU's Open Campus following the Kilachand lunch. Admitted students and their guests can use their campus pass to explore the Fitness & Recreation Center, Mugar Memorial Library, the George Sherman Union, Barnes & Noble @ BU, and take campus tours. More details about these offerings will be available at registration on the day of your Open House.