Susannah Heschel on "Joy and Obligation"
On Tuesday March 4, the Elie Wiesel Center inaugurated a new lecture series named for Leo Trepp (1913-2010), a rabbi and teacher who fled Nazi Germany and was active in the Boston area before settling in California. The first Leo Trepp lecture was delivered by Professor Susannah Heschel (Dartmouth College) who introduced the audience to her father, A. J. Heschel (1907-1972) who grew up in a Hasidic family in Warsaw and, even as a highly modern and socially engaged conservative Jewish theologian never forgot the "religious nobility" of his origins. Preceding the lecture, Gunda Trepp and Rolf Schuette, the Consul General of Germany to New England, shared reminiscences of Leo Trepp who was among the few distinguished rabbis who, after the Shoah, were invested in rebuilding Jewish communities in Germany.
The lecture was held at 5:00 p.m. on Tuesday, March 4, at the Florence & Chafetz Hillel House at Boston University (213 Bay State Road, Boston, MA 02215).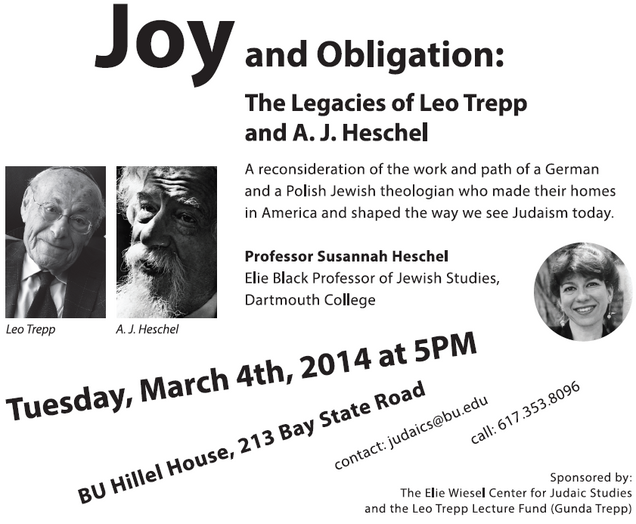 For more information on past and future events, visit our calendar, email us at judaics@bu.edu, or call 617-353-8096.