Upcoming Lectures
Larry Shiner (University of Illinois at Springfield)
Wednesday, November 28, 5 p.m.
Commentator: Franco Cirulli (BU)
Gordon Graham (Princeton Theological Seminary)
Wednesday, December 5, 5 p.m.
Publications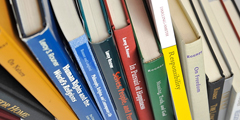 Founded in 1970 with the cooperation of three academic units of Boston University—the Department of Philosophy, Department of Religion, and School of Theology—the Institute was envisioned as a home for serious philosophical and religious reflection. Read More.