Reflections On Public Service
Government – Trying to Keep My Faith, But Should I Look For More: Reflections On Public Service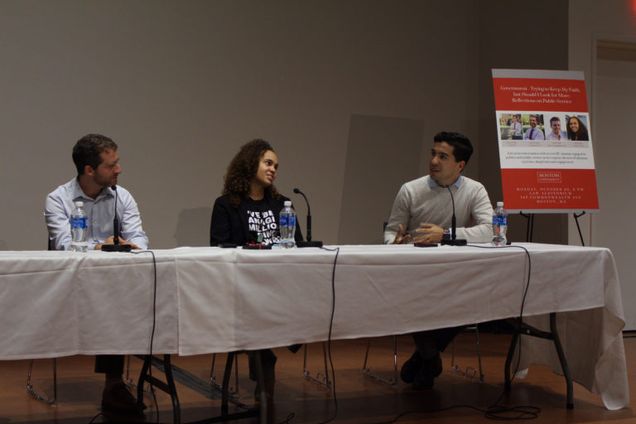 Last Monday, four BU alumni joined Katharine Lusk, the Executive Director of the Initiative on Cities, to reflect on their lives in public service. Tyler Fields (CAS '16), Daniel Lesser (Questrom '17), Shari Davis (SAR '10, '12), and Andrew Vargas (CAS '15) discussed why they got started, how they stay motivated, and what young students should do to engage in politics.
The event is part of a speaker series on civic engagement being hosted this semester by the Howard Thurman Center for Common Ground.
The four alums encouraged BU students to consider spending time in public service, whether at the local, state or federal level. All mentioned the opportunity for impact as an important factor that drew them to government.
Daniel Lesser grew up in a diverse public school system, which exposed him to the systemic inequities in his community, from Boston's housing crisis to climate change, gang violence to income inequality, and later worked as a community organizer. His new role as the Program Director with the Mayor's Office of New Urban Mechanics for the City of Boston primarily focuses on economic mobility and transportation, in order to "make the city work for all its residents." His department partners with private companies, academic researchers, community organizations and others to help improve the everyday lives of Bostonians with projects like innovative housing models or safer bike lanes. Lesser explained that his passion has always been helping other people.
"You've got to figure out what feeds you about the work you're doing. For me, it's always about the people," he said. "When I feel like I want to quit, I go back and talk to the people."
Tyler Fields was active on multiple campaigns throughout college and now, shortly after graduation, he's already made it to the White House as an Associate Director. He interned on local assembly and congressional campaigns, working his way up to the Republican National Committee the summer before his senior year. After graduating in May 2016, he continued working for the RNC, and eventually the inauguration and the White House. Fields said he's passionate about the federal level because of the opportunity to have widespread impact. He agreed that working on campaigns is exhausting — especially if you lose — but young students shouldn't lose hope.
"Whatever side you're tired of, you're letting [the other side] win," he said. "You have to remind yourself that you have to keep chipping and keep going if you truly believe in something."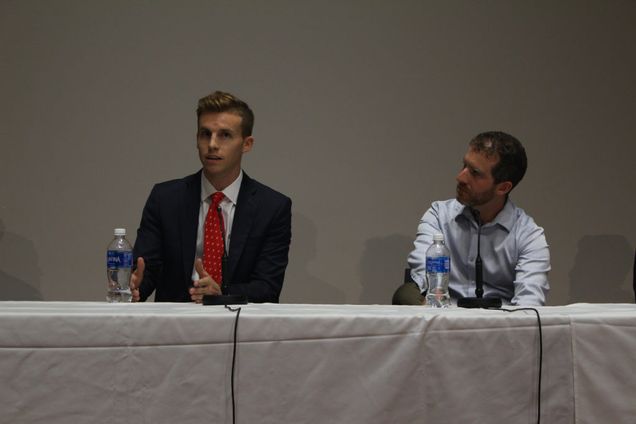 Shari Davis loves to mention that she's worked for the City of Boston for 15 years, even though she's still in her twenties. She started as a member of the Mayor's Youth Council, under IOC co-founder Mayor Tom Menino, and eventually became Executive Director of Youth Engagement and Employment. Following on her working launching Youth Lead the Change, the city's youth-led participatory budgeting project, she took a role as Director of Strategic Initiatives for the Participatory Budgeting Project. Often the only black woman in the room, Davis emphasized the importance of working locally to reach certain demographics. Utilizing social media and her background in science, Davis said she hopes to have a global impact on youth civic engagement.
"Stop thinking of young people as future leaders," she said. "Think of them as leaders right now."
As Haverhill's first Latino councilor at just 22 years old, Andrew Vargas faced some initial resistance to his candidacy. He recounted a story inviting a vocal campaign critic to get a cup of coffee and the chance it afforded to humanize both sides and find common ground. Vargas credited a supportive, argumentative household from his childhood for preparing him for politics. Even after a heavy debate, his family would still come together at the dinner table.
"I think that's what Democrats and Republicans need to do. Just eat more rice, beans, and chicken," he chuckled. He's now running for Haverhill State Representative.