Event Recap – A Conversation with David Lammy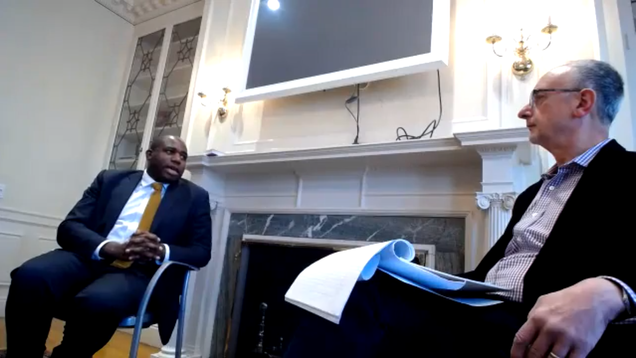 On March 20th, David Lammy, the Labour Member of Parliament for Tottenham in London, England, visited the Initiative on Cities to discuss issues within his constituency, the impact of Brexit, and the goals of the Labour Party.
Amongst the Brexit debates, Lammy tweeted out a short but powerful quote from Shakespeare's Richard II: "That England that was wont to conquer others, hath made a shameful conquest of itself." Since Britain is one of the big three trading powers in Europe, Lammy sees "no upsides" to the decision. Many residents voted for Brexit over immigration concerns, although Lammy believes immigration will still remain high once Britain works out its trade deals which may include visas.
"Those very people who thought they were stopping something better get used to a lot of people arriving from India and China over the next few years," said Lammy.
Education and job training are some of Lammy's top domestic concerns. England's "hourglass economy" houses many jobs at the top and bottom, but not many in the middle. Lammy acknowledged that England is a great country for academics, but it does not sufficiently serve its vocational programs. Lammy hopes to bring back state-subsidized night schools in order to give people access to the modern economy.
Lammy also discussed the overrepresentation of black and ethnic minorities in the criminal justice system. 43% of the youth prison population come from black or ethnic minority background, said Lammy, even though England's youth is only about 19% black/minority. America is able to have a conversation on race, but other countries are still struggling. Lammy also mentioned how a criminal record hurts one's chances for future employment. He emphasized analyzing the whole justice system, from the courts to the prison guards.
"The problem begins but doesn't end with police," said Lammy.
Regarding representation in Parliament, Lammy asked where exactly does power sit, and who shares it? His constituency is extremely diverse, with over 200 languages spoken in the small neighborhood. He noted that there isn't one dominant community; everyone lives side by side.
Even within his diverse constituency, Lammy recognizes the political division within the whole continent. Lammy believes that President Vladmir Putin is "feeding tribal wars" into the United States and Europe, creating highly individualized countries where one-nation conservatism is inevitable.
"There is a problem with communities coming back together," said Lammy. "You can't build a bridge from the center."