2017 Urban Research Awards: Dehumanization in the City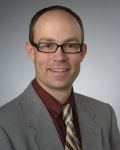 Through his research, Political Science Assistant Professor Spencer Piston seeks to address the problem of urban police violence against black people by focusing on their dehumanization. Through a national survey, Professor Piston will assess whether depictions of black men as "urban" and "ghetto" activate dehumanizing attitudes toward black people. He will also assess the effectiveness of four potential rehumanization efforts, intended to increase empathy for black lives.
Learn more about his project here.