2017 Urban Research Awards: Air Pollution & Pregnancy
Impact of Air Pollution and Climate on Adverse Pregnancy Outcomes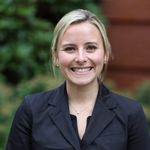 School of Public Health Ph.D. candidate Lindsey Butler will investigate the the impacts of maternal exposure to traffic related air pollution (TRAP) and extreme ambient temperatures on the risk of structural birth defects and stillbirth, particularly those resulting from placental dysfunction.
Lindsey will serve as the project's PI in collaboration with four co-PIs from the BU School of Public Health: Assistant Professor Patricia Janulewicz, Bev Brown Professor of Urban Health Patrick Kinney, Professor Ann Aschengrau, and Adjunct Assistant Professor and Director of the Center for Birth Defects Research and Prevention Mahsa Yazdy.
The team will evaluate the association between maternal residential proximity to major roadways as a proxy for TRAP and the risk of birth defects (such as neural tube defects, orofacial clefts, and hypospadias) as well as stillbirths resulting from placental dysfunction (such as placental abruption, placental infarction, placental separation, and placental insufficiency). At the same time, the team will also evaluate the association between extreme ambient temperatures during the first trimester and the risk of birth defects. For stillbirths, the effect of extreme ambient temperatures will be examined during each trimester, immediately prior to the delivery, and throughout the pregnancy as a whole. With this data, the team will be able to assess the overall interaction between maternal exposure to extreme ambient temperatures and proximity to major roadways on the risk of birth defects and stillbirths.