2017 Urban Research Awards: Closing the Opportunity Gap
Closing the Opportunity Gap in Early Education and Care by Recruiting and Training High Quality Literacy Teachers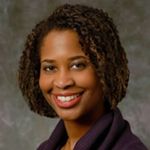 Associate Professor Stephanie Curenton, in collaboration with Paul Leech, Chief Operating Officer of the Boston-based childcare provider Nurtury, Inc., will  analyze cultural competency training and programs for early childhood educators intended to improve outcomes for urban preschool students.
Over the course of this research project, Professor Curenton and Nurtury will partner with Jumpstart, a national early education organization that provides language, literacy, and social-emotional programming for preschool children from under-resourced communities.
Professor Curenton will design and deliver a supplemental training program to Jumpstart members that focuses on culturally responsive, anti-biased language and literacy practices for classroom in order to address cultural competency needs in the Greater Boston area. She will then evaluate whether this training will result in differences in the Jumpstart members' instruction and children's outcomes that are greater than existing, standard outcomes.