Jennifer Miller (COM'17) Builds a Fairer Ticket Marketplace
After years of seeing fellow music fans get taken advantage of by scalpers and secondary ticket markets, Jennifer Miller (COM'17) was inspired to do something about it through her thesis project for BU's Media Ventures program. Now, she's living in Los Angeles and is preparing to build Justus Tickets with the mentorship of two accelerator programs and a recently launched funding campaign. 
INNOVATE@BU: How do you create innovation?
MILLER: Innovation comes from being able to talk and share openly. I love meeting people with ideas and finding out how I can help them. It took a lot to learn to not only praise people for their ideas but to talking with them so that I can add value by sharing how I would use it, what would turn me off of it, and sharing my personal experiences. If you ever have an idea for something new, I'm all ears!
Who or what inspires you to create impact? 
The biggest thing that inspires me to create is being able to constantly read about the amazing experiences fans are able to have at concerts and how it creates a unique bond with the artist.
At the same time, I see every day how scalpers price fans out of being able to see their favorite artists. It's really the deep love that music fans have and how much it means to the artists that keep me striving to launch Justus Tickets.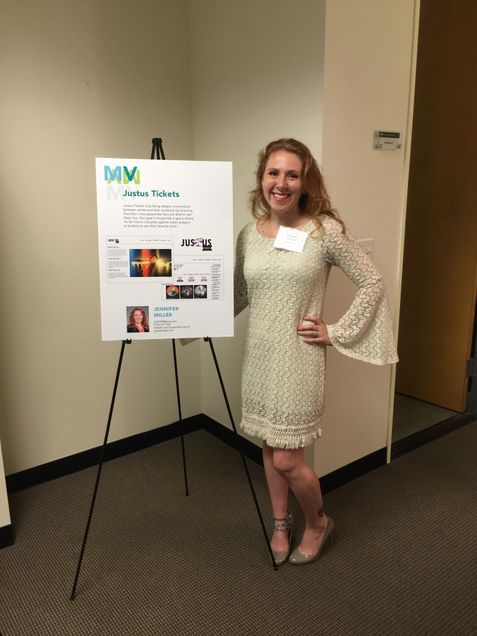 Tell us, how did Justus Tickets get started? 
Justus Tickets started as a simple idea for my thesis project for the Media Ventures program that I knew I would not get bored of. I worked in a venue for four years and saw how an overpriced ticket could ruin a fans night even if it meant they were at the show. By the time I saw them [at the show], there wasn't anything I could do to help them. Through the program, the idea grew and shifted until it was something that I believed in so deeply that I couldn't imagine not bringing it to life.
What problem are you hoping to solve with Justus Tickets? 
Artists are struggling to make sure their fans are always getting access to fairly priced tickets. Fans lose the chance to see their favorite artists live when they are priced out on the secondary market while scalpers make money from an artist's hard work.
Our mission is to create the best concert experience for fans and artists by ensuring their most passionate fans are rewarded for their continued support by having access to fairly-priced tickets.
Fans prove their passion before gaining access so sellers are assured that tickets remain in the hands of those who actually love the artist and their music. In our marketplace, the fans are in it together. The maximum markup is 20% over face-value. Sellers make their money back and true fans get to see their favorites at a reasonable price.
Sellers receive 80% of the profits and the remaining 20% is split between the artist (or their chosen charity) and Justus.
What has been the biggest challenge or obstacle you had to overcome in your role or for your new venture? How did you do it? What did you learn from the experience?
The biggest challenge I have faced is trying to find a technical co-founder or even a developer without funding. There are so many people that face this problem, but for a long time, I did not think I could move forward without having one. That's not the case though! I learned that there is always a way to keep moving forward and that there is no straight and clear path to follow when it comes to launching a business. It helped me learn that I can always do something to get closer to my goal of launching.
Who do you turn to for mentorship and advice?
When I feel stuck I always turn to the community that BU Los Angeles helped me build. Whether it is professors, classmates, or connections that the program helped me make, there is always someone to turn to.
What is one major accomplishment you're most proud of?
I am very proud of being accepted to Founder Institute as well as being a part of Zero Base One here in Los Angeles. Being a solo founder is hard and sometimes people look right past Justus Tickets because of our lack of technical co-founder, but it hasn't stopped me from pursuing opportunities and surprising myself of what can happen when you take a chance.
What advice would you give to someone starting their own innovation journey right now?
Be prepared for some serious déjà vu. You'll be pitching, you'll be explaining, you'll be answering the same questions, etc. a lot. The biggest thing about starting a company is getting it out in front of as many people as possible so that when you launch, you have covered all your bases and have found good answers to all the toughest questions. It seems silly when you feel like you've heard the same answer to your question, but there's always that one person out there that will give you more answers than any research ever will so keep talking!
Where do you hope to be in two years?
In two years, I hope that Justus Tickets is not only getting the most passionate fans to concerts, but to any live event. We want to find ways to start rewarding people for what they passionate about and help artists have a better understanding of their audience that allows them to have deeper connections with them.
Knowing that fans already support Justus Tickets and everyone that believes in me helps me stay motivated because I know all the work will pay off. As Cathy Perron told me, "Don't quit before the miracle happens."
What's next for Justus Tickets?
The next step is our crowdfunding campaign! We are raising money to fund the development of our MVP site as well as help truly show that fans are waiting for something like Justus Tickets to exist.
You can find the campaign here.
When you're not working on Justus Tickets, where can we find you? 
Going to find live music, of course! If you're ever in LA, let me know and I'll tell you all the best places to hit up for amazing music.
More Innovation, More Inspiration