Digital Innovation in Calais: Setbacks and Lessons Learned – Part 2
Written by Smaranda Tolosano (CAS'17) and Matthias Grenon (CAS '17)
In February, we shared a story with you from Smaranda Tolosano and Matthias Grenon, two BU alums that took an idea born in an undergraduate class and grew into a post-graduate mission. The two alums carry on working on the Abeona Initiative, a student-born venture that focuses on providing a digital solution for unaccompanied minors after they leave refugee camps, specifically, a mobile platform/app that would allow nonprofit organizations to communicate with the individuals, check on their wellbeing, and monitor the resources they need.  After graduating in 2017, they made plans to revisit Calais, France and take serious steps to building a prototype of their digital platform. In October 2017, they made their way overseas. Now, six months later, Smaranda and Matthias look back at the experience so far.
Smaranda, March 23, 2018.
I am back in Calais for the first time since mid-December 2018, only for a couple days, to see how the friends I made there are doing, and how the NGOs' work has evolved. Writing these articles inevitably causes me to reflect on what we saw, experienced, and remember from Calais. Three months seemed like plenty of time when we first arrived, but now, three months after leaving, it all feels very distant. So I thought, why not use this time to make connections between what I observed last fall and what is happening in Calais today, and see what's changed or not, and how exactly our first attempt at a social entrepreneurship project unfolded. The question still nags me today: why was it that we couldn't move beyond a prototype phase for the digital platform? Looking back at Matthias' notes from October, I think you'll begin to see what we, in retrospect, have understood about attempts at digital innovation in humanitarian contexts.
Matthias, October 25, 2017:
"Look at a stone cutter hammering away at his rock, perhaps a hundred times without as much as a crack showing in it. Yet at the hundred-and-first blow it will split in two, and I know it was not the last blow that did it, but all that had gone before."
–Jacob Riis
Two weeks into our time in Calais, part of what's been challenging for us on a day-to-day basis is that the kind of fieldwork and collaboration we're pursuing requires patience in developing the relationships, trust, and access that is necessary to actually developna workable solution. The NGO's here are extremely busy to start with and have different, more urgent priorities than establishing a collaborative framework with us, making it difficult not to feel like we're getting nowhere at times. Though it's easier said than done, we remind ourselves daily that the preliminary groundwork we're laying by being a consistent presence in Calais is what will eventually lead us to the kind of tangible and measurable progress that will make us feel like the project is moving forward.
We arrived in Calais late Monday night on September 11, 2017. After spending the night in our AirBnB, we sought to visit the vestiges of what had once been "The Jungle" encampment, the massive migrant slum of Calais that made the city a notorious symbol of the European Union's failure to properly deal with the consequences of the refugee crisis. A year after the last remnants of what functionally was a ghetto had burned to the ground, not much remains to remind one of the fact that this nondescript field was once inhabited by tens of thousands of refugees desperate to reach the United Kingdom.
A closer look at the area reveals the presence of multiple backhoes and bulldozers as well as some legal notices which declared the site publicly inaccessible, while others announced the upcoming nature restoration project. When we drove further into the former grounds of The Jungle, we happened upon an abandoned set of buildings with markings indicating that it had once served as a service center for the refugee population. The derelict complex is named the "Centre d'Accueil Jules Ferry" and was the site in which the NGO "La Vie Active" provided a broad range of services to the residents of The Jungle, such as access to showers, meals, medical attention, counseling and legal advice. The number of buildings that had visibly been in use and the sheer breadth of different services and instructions littering the area gave us an intuitive sense of just how many people were served there. The realization that this once bustling – if not overwhelmed – center was now a dilapidated ghost town that had clearly been shuttered from one day to the next adds to the feeling that the entire affair is wanted out of sight and out of mind.
The problem is that despite the best efforts of the local government, the nature of the refugee crisis in Calais cannot be simply wished away. Regardless of political and legal measures, Calais' geographic proximity to the UK and its borders inherently attract migrants desperate for a shot at asylum across the English Channel. They come to Calais hoping for any opportunity to access the UK, despite the difficult living conditions purposefully structured by the city's mayor.
This new political and legal context effectively made migrants in Calais and the NGO's serving them fugitives until the French courts mandated the provision of basic amenities like running water and toilets, ruling it illegal for the city to interdict the distribution of meals to migrants. In our early interactions with NGO contacts, we learned that these new conditions have exacerbated organizations' need for a more specialized and appropriate communications platform that could facilitate their work with an increasingly elusive population.
The Refugee Youth Service (RYS), is one of the NGO's that works to provide safe spaces and resources for young refugees, including cell phones, SIM cards, and monthly phone credit. When we accompanied them to distribute cell phones and SIM cards, it immediately became apparent to us that a significant issue for RYS in particular was the difficulty of accurately monitoring and tracking the number of times they had "topped up" a SIM card with credit. Further compounding their difficulties was the fact that other NGO's distributed phone credit and SIM cards without coordinating with one another. It was easy to recognize that SIM cards and phone credit serve as currency within the migrant population, further complicating the NGOs' efforts to effectively account for their allocation of credit. To this end, our contact with RYS expressed that the platform we imagined a year ago was still very much current in its potential utility for the NGOs in Calais.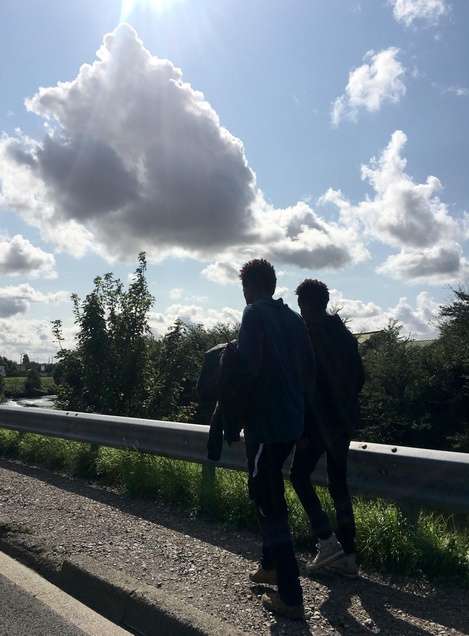 Smaranda, March 2018: 
The enthusiasm with which our digital "solution" was met with in our first month in Calais was, to a certain degree, misleading. As someone with little to no business background, I was excited to see an idea I had contributed to continued to grow and gain traction over a year of research and transatlantic e-mail exchanges. So when the RYS team said they could truly use a more efficient digital workflow and tool to speed up their data processing and increase security, I thought we'd conquered an essential obstacle: convincing people who knew their jobs that we could make a positive change for them. I didn't only believe in this idea for the sake of it, it had also been backed by research my peers and I had conducted in Professor Kaija Schilde's IR500 course and by the NGO workers who assured us they needed a better system.
In order to understand what could work in this setting, my classmates and I had first studied what hadn't worked from the plethora of existing apps and websites for refugees heading to Europe. What we found, in a nutshell, was that most of these apps/websites had gone out of use for a few key reasons:
lack of manpower and/or funding to updates these apps and information-centered websites in the long run;
lack of visibility/remaining unknown to their target audience;
and apps that were too data-intensive, thus using up a lot of the refugees' cell data, making it impossible to use them throughout their journey.
Having seen how many other groups of people with more expertise and means than we did had both failed and succeeded in helping refugees with varying needs, our classroom came up with the idea to create an app for an NGO instead and to look at ways in which we could facilitate their work on the ground. This way, we would indirectly be contributing to the refugee-aid effort, while gaining insight into the inner workings of a humanitarian NGO.
What we hadn't anticipated was what many aspiring innovators in humanitarian contexts fail to take into account because they simply cannot imagine how a day's work unfolds on the ground: urgent life-and-death matters along with food and clothing shortages are the bulk of what NGOs deal with on daily basis. Finding time for our well-meaning experiment (like others before) could never be a priority for volunteers whose time and energy becomes increasingly precious as time goes by.
While attending the Techfugees Conference in October 2017, we met people from all over the world who wanted to make a positive change in refugees' lives, whether it be through crowd-sourcing innovative tech products or activating networks of people to reunite refugees with their families. Many of these initiatives were efficient and successful from the start. But many others seemed afflicted by the same problem we were: the giant gap between theoretical products and those who can build them, and the unpredictable nature of field where they are meant to be used.
The reality of the ground is that organizations are often understaffed and underfunded, making do with low-cost solutions when refugees' belongings are confiscated and destroyed by police forces multiple times a week even in the winter. This, in addition to high staff turnover at NGOs, makes it difficult for the organizations to: 1. Change their way of operating quickly enough, and 2. Establish cooperation pathways with other organizations to avoid redundancies in their actions.
Don't get me wrong, the organizations in Calais are handling things well given the conditions they are working in, but the levels of stress under which they operate make it nearly impossible to effect long-lasting change.
After all, what matters is that their presence alleviates some of the pressures refugees face, and that, they do with success.
---
Keep an eye out for the next update from The Calais Project

 

in May 2018.