Faculty Publications
Steinbeck y Mexico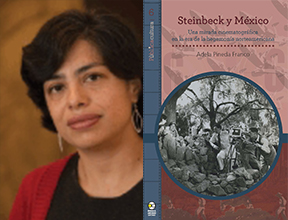 Adela Pineda, Associate Professor of Spanish, and Director of Latin American Studies, after several years conducting archival research in Mexico and the US published Steinbeck y Mexico. Steinbeck's intellectual anxieties (the importance of popular culture to shape a national imaginary during the Great Depression, the waning of community in a context of technological development during World War II, and the questioning of revolutionary purpose during the Cold War) were irremediably linked to Mexico. The rise and fall of Mexican nationalism, import substitution industrialization, and the emergence of insurrectionary movements in the countryside reclaiming the legacy of the Mexican Revolution, is the context of her travels with Steinbeck through Mexico. Steinbeck's engagement with the history and the cinematic archive of revolutionary Mexico took place in an embattled field of political and cultural activity on both sides of the Río Grande, hence it could not be but complex and contradictory. Hence, this is a book on Steinbeck going global from the vantage point of Mexico.
July 2018
Resonances of Chindon-ya: Sounding Space and Sociality in Contemporary Japan
Professor Marié Abe, Assistant Professor of Musicology and Ethnomusicology, recently published Resonances of Chindon-ya: Sounding Space and Sociality in Contemporary Japan. In this first book-length study of chindon-ya, Marié Abe investigates the intersection of sound, public space, and sociality in contemporary Japan. Chindon-ya, dating back to the 1840s, are ostentatiously costumed street musicians who publicize a business by parading through neighborhood streets. Historically not considered music, but part of the everyday soundscape, this vernacular performing art provides a window into shifting notions of musical labor, the politics of everyday listening and sounding, and street music at social protest in Japan. Against the background of long-term economic downturn, growing social precarity, and the visually and sonically saturated urban streets of Japan, Resonances of Chindon-ya examines how this seemingly outdated means of advertisement has recently gained traction as an aesthetic, economic, and political practice after decades of inactivity. Through historical and ethnographic analyses, this book challenges Western conceptions of listening that have normalized the way we think about the relationship between sound, space, and listening subjects, and advances a growing body of interdisciplinary scholarship that examines the ways social fragmentation is experienced and negotiated in post-industrial societies.
July 2018
Arvo Pärt's Resonant Texts: Choral and Organ Music 1956-2015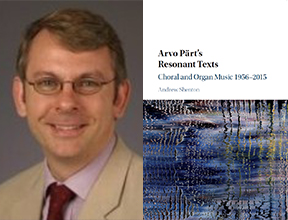 Professor Andrew Shenton, Associate Professor of Music, recently published Arvo Pärt's Resonant Texts: Choral and Organ Music 1956-2015. Statistically the most performed and listened to contemporary composer in the world, Arvo Pärt is a musical and cultural phenomenon. In the book, Shenton surveys the full scope of Pärt's oeuvre, providing context and chronological continuity while concentrating in particular on his text-based music, analysing and describing individual pieces and techniques such as tintinnabulation. The book also explores the spiritual and theological contexts of Part's creativity, and the challenges of performing his work. Engaging with eh form, content, and context of Pärt's work, Shenton situates Pärt in the narrative of metamodernism and suggests new ways of understanding this unique and beautiful music.
For more information on this book, visit the Cambridge University Press website.
July 2018
LEXTALE_CH: A Quick, Character-Based Proficiency Test for Mandarin Chinese
Charles Chang, Assistant Professor of Linguistics, recently published a research article entitled "LEXTALE_CH: A Quick, Character-Based Proficiency Test for Mandarin Chinese," in the Proceedings of the 42nd annual Boston University Conference on Language Development.
Translation and Jewish History
Professor Abigail Gillman, associate Professor of Hebrew, German & Comparative Literature in WLL, and a BU Center for the Humanities Fellow in 2014-2015, recently published A History of German Jewish Bible Translation. This book is the first in English to offer a close analysis of German Jewish translations as part of a larger cultural project. Looking at four distinct waves of translations, Abigail Gillman juxtaposes translations within each that sought to achieve similar goals through differing means. As she details the history of successive translations, we gain new insight into the opportunities and problems the Bible posed for different generations and gain a new perspective on modern German Jewish history.
For more information on this book, visit the University of Chicago Press website.
June 2018
Enron and American Capitalism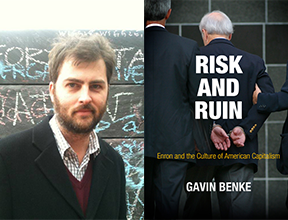 CAS Writing Program Lecturer Gevin Benke recently published his first book, Risk and Ruin: Enron and the Culture of American Capitalism. Risk and Ruin tracks modern American business and the history of capitalism through the lens of Enron, a giant of American business before its 2001 collapse. With Risk and Ruin, Gavin Benke places Enron's fall within the larger history and culture of late twentieth-century American capitalism. In many ways, Benke argues, Enron was emblematic of the transitions that characterized the era––from old industry to the so-called "knowledge economy," from goods to finance, and from national to global modes of production––and is a potent reminder of the unaddressed issues still facing national and global economies.
For more information on this book, visit the University of Pennsylvania Press website.
June 2018
Naturalism and the Postwar Sages
In his new book, The Matter of High Words: Naturalism, Normativity, and the Postwar Sage, Robert Chodat, Associate Professor of English, explores the contradiction between the precision-based, authoritative language of natural science and the language of "high words" that articulates our norms and governs our lives. Chodat examines a group of post-World War II American writers who have explored this contradiction: Walker Percy, Marilynne Robinson, Ralph Ellison, Stanley Cavell, and David Foster Wallace. Though these writers are all attuned to the fragmentation and skepticism that has come to define the literary and critical culture of the last century, they have also looked back on older forms of thought and writing—the traditions of prophecy, of wisdom literature, of the writings of sages. These writers are drawn to both art and argument, moving constantly between narrative and discursive genres. In their essays, they are moralists, arguing for the value of broad abstract concepts like community and family that inspire action in spite of naturalistic reduction. In their narratives, they narrow themselves to the particular, focusing on specific lives in a deeply descriptive way that gives weight to these high, abstract words. But in pursuing such unusual strategies, these postwar writers are able to challenge many of the dominant naturalistic theories of the past several decades and reaffirm the value and meaning of the conceptual language of high words.
For more information on this book, visit the Oxford University Press website.
September 2017