Specialty Housing on Bay State Road from BU Today
On campus: Chinese dumplings, Italian flicks, classical Greek jokes
By Susan Seligson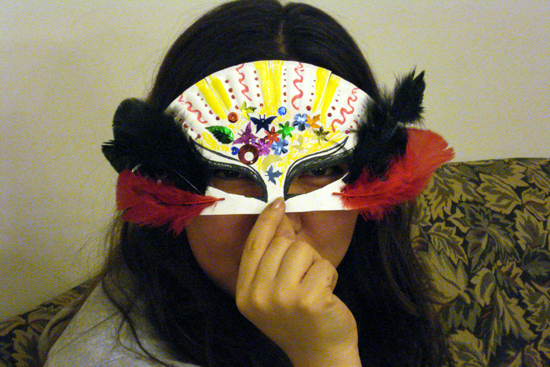 Behind a homemade Venetian mask for Carnivale is Casa Italiana's Aizhan Kushumbayeva (CAS'13).
At BU's Classics House sits an unremarkable plastic tree that residents have named Daphne.
Most people would fail to see the humor here, but it is typical of the mischief permeating the brownstone at 176-178 Bay State Road, populated by students majoring in classical Greek, Latin, or archaeology: Daphne, a nymph in Greek mythology, prayed to her father, the river god, to save her from the pursuing Apollo's desperate advances. Her father turned the tender virgin into a laurel tree.
"We call it nerdy Classics humor," says resident assistant Caitlin Cox (CFA'10), laughing while she describes fellow residents scrawling a verse from the bawdy Latin poet Catullus into the house's snow-covered lawn. She gets into the spirit with classical touches in her suite, such as a Roman Coliseum shower curtain. "We hang out together," she says, "we study together, we can knock on each others' doors for grammar advice."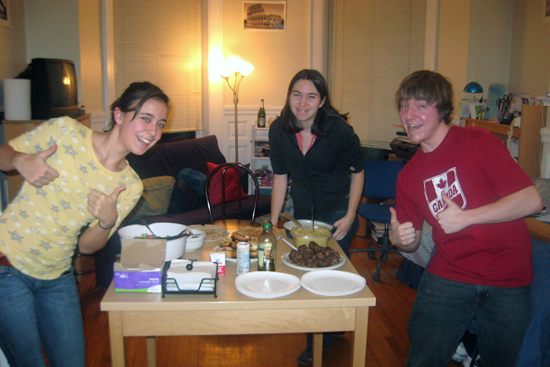 A Greek supper by Classics chefs Rebecca Sgouros (CAS'11) (from left), Celia Kelly (CAS'10), and Shawn Ellis (SED'13).
Students living across the street at La Casa Italiana, 193 Bay State, might assume Catullus is the name of a car, but they don't require simultaneous translation for La traviata. While it's not la dolce vita all the time, these students are joined at the hip, often seen moving en masse to dinner at Warren Towers. But what's an Italian house without a communal kitchen? (The modest one here succumbed to a minor stove explosion.) RA Alessandra Cappellino (GRS'10) routinely gathers her charges for cold antipasto meals or simple pasta dinners in her suite, accompanied by DVDs of the Italian version of the sitcom Friends.
"We watch Italian movies together; we go to the North End," says Nicolle Castro (COM'12), an advertising major from Ecuador, who is fluent in Portuguese as well. "The house is addicting. We call each other 'la famiglia.'"
Many on-campus specialty houses seem to serve as surrogate family homes. Ideally, each is an institution of learning in miniature, with up to 50 residents, most of whom apply for the privilege. The University has 25 such communities, which include the language houses — French, Italian, Spanish, German, Chinese, and Japanese — as well as the Community Service House, Environmental Awareness House, Hospitality Administration House, Music House, and Education House (the original specialty house). There are also seven specialty floors in general population dorms, from the women in science and engineering floor in Fairfield to the reportedly haunted writers' corridor in Kilachand Hall.
"We prefer to call them specialty communities rather than houses," says Yvette Lancaster, an area director for the Office of Residence Life. Although some freshmen end up in the houses by luck of the draw, most meet requirements that they have a specific major or take at least one relevant course.
"We want it to be about more than the real estate," Lancaster says. Area director Molly Whelsky agrees: "We're working really hard right now to attract core groups, students who are really invested in the community. We're reviewing applications carefully."
At its best, she says, specialty housing can "make BU seem like a much smaller place."
Some houses are more successful than others; everyone who visits La Maison Française (153 Bay State Road) seems to feel beaucoup d'adoration. Other houses have fallen victim to lack of interest: Russian House, R.I.P. Houses that work best combine an exuberant RA, a committed faculty advisor, and students with more than a superficial interest in the subject, according to Whelsky.
Common Ground residents and friends with advisor Katherine Kennedy (far right).
At Common Ground House (158-160 Bay State), the curriculum is other people. "The Common Ground House provides a real-life experience for students who want to live, learn, and socialize with people from various places, races, cultures, ethnicities, religions, socioeconomic backgrounds, genders, and sexual identities," says advisor Katherine J. Kennedy, director of the Howard Thurman Center, BU's multicultural center.
Matlin Gilman (CAS'10) learned of the house at the center and has lived there since sophomore year. "I've always enjoyed being in diverse settings," says Gilman, who grew up in Brighton. At Common Ground, named for the philosophy of the late Marsh Chapel Dean Howard Thurman (Hon.'67), the first black dean of a chapel (1953–1965) at a major white university, Gilman says he found an ethnic fabric that eluded him elsewhere on campus. His housemates hail from all over the world, including Turkey, China, Kenya, and France.
While common area furnishings in the houses are usually not more distinctive than that in a basic chain hotel, the rooms retain a whiff of Victorian grandeur, with ornamental moldings, chandeliers, and fireplace mantels, and they subtly bear the community's imprint. There's a lone stuffed panda in the otherwise unadorned common room of the Chinese House, but according to RA Tina Zito (COM'11), the room comes alive with dumpling parties and auditions for the Chinese Student Association's C-pop performances at the Tsai Performance Center.
"Last semester we had Zhang Yimou [Hon.'09], the famous Chinese film director, speak at the house," says Zito, a film major minoring in Chinese. "It was an honor beyond our wildest imaginations." Chinese House is one of the smallest, with just 11 students, including 3 from China and 2 from Taiwan.
Homemade dumpling night at the Chinese House.
In the fall, residents of the language houses competed in a series of soggy soccer games and gathered for a multicultural feast hosted by La Maison Française. "We made bruschetta," says Italian House RA Cappellino. "The French House made crepes, Spanish House made pescado with avocado, Japanese House brought rice balls, German House brought schnitzel, and Chinese House prepared dumplings. We got all dressed up, and only 4 of our house's 22 residents didn't go. We prepared the bruschetta in my room, dicing for hours while an Italian soccer game was on TV."
RAs at several houses have witnessed romances inspired by the communal spirit. "Of course there's love in the Italian House," says Cappellino, a fluent Italian speaker writing her master's thesis on public policy and attitudes toward AIDS in Italy. "We're a really tight bunch. But as their RA, I don't know the details; I've tried to stay out of it." She credits Casa Italiana's success in large part to faculty advisor Claretta Tonetti, a College of Arts & Sciences romance studies lecturer, who is "really invested. She pushes me to do a good job."
At the Music House (207 Bay State), it's occasionally necessary to tell students not to practice piano in the middle of the night, says RA Camille Beckles (COM'10), a film and television major who sings in the University's Inner Strength Gospel Choir. All 22 residents either play an instrument or sing, often in combination. Beckles lives directly above four basement practice rooms. "I can hear everything, and it all sounds excellent — they're a really talented bunch," she says. When residents are involved in performances, it's not unusual for housemates to attend as a group. It's a deeply respectful atmosphere, she says — except when students tease her for ruining rice every time she attempts to cook it.
Both Lancaster and Whelsky believe the houses have greater potential. "A lot of people have good ideas for specialty houses," Whelsky says, but neither expect many more to sprout up anytime soon.
"We need the academic departments to support these houses," Whelsky adds. "They can't sell themselves. Besides, if we had too many houses, the program wouldn't work. It wouldn't be special."