Kilachand Hall photographs
Spotlight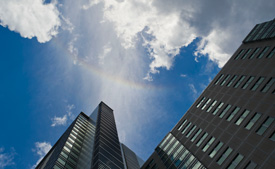 Student Village 2
Opened in fall 2009, 33 Harry Agganis Way houses juniors and seniors in a apartment-style settings in the North Tower while the South Tower houses sophomores, juniors, and seniors in suite (dormitory-style) settings.
Housing News
Residence and dining plan rates for the 2016–17 academic year have been...
October 1, 2015
Beginning in the 2015-16 academic year, all residences, both dormitory and apartment-style,
September 13, 2015
BU Housing is now on Twitter. We'll be here to share information...