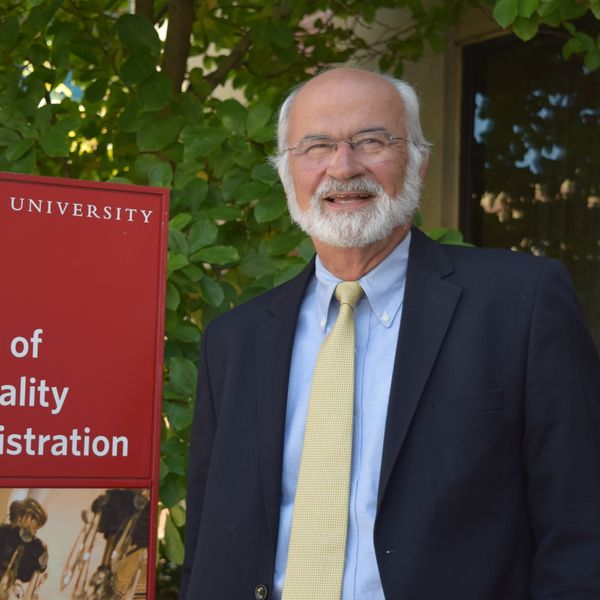 Nicholas Washienko
Assistant Professor of Hospitality Administration
Professor Nick Washienko has taught at Boston University for the past 25 years, and for the past 12 years at the School of Hospitality Administration. He has taught courses in Hospitality Law, Business Ethics, and Managerial Communications. He holds a PhD from Boston University. While working at the University he also earned his JD from the Boston University School of Law.
In addition to teaching at the School, Professor Washienko has a very active consulting practice. For 25 years he has worked with corporate executives and politicians, preparing them for major business critical-speaking engagements. During that time he has worked with many of the top corporations in America, including Fidelity Investments, Prudential, Marsh & McLennan, Texas Instruments, State Street Research, Mellon Financial, Wyeth, Novartis, Allergan, Serono, First Data, American Express, AT&T, Cognos, and many large law firms in the Boston, New York, and Washington, D.C. areas. During this time, Professor Washienko has taught literally hundreds of senior-level executives how to present and communicate effectively to 21st-century American listeners.
Professor Washienko is a frequent speaker at leadership conferences, programs, and symposia. He has spoken at Harvard Business School Executive Education Programs, Babson College Executive Education Center, Linkage Inc., Linkage Asia, the Center for Management Research, the Mass Bankers Association, and the National Association of Corporate Directors. These experiences have given him a wealth of experience to share with his students.
At the same time, Professor Washienko is absolutely committed to the premise that his students' education should be firmly grounded in the classical liberal arts. Thus, whether teaching courses in law, ethics, or communications, his students learn not only specific facts, but they also learn about their place in history and their responsibility to hand over the world to their children as a more safe, fair, and just society.