Option B: Specialty Tracks in History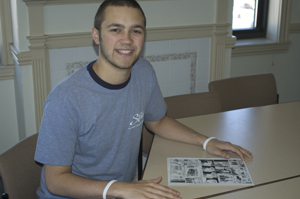 Minimum of eleven courses required, of which no more than three may be below the 200 level.
Method and Historiography: All concentrators are required to take CAS HI 200, ideally in their sophomore year, but in no event later than one semester after declaring a history concentration.
Geographical/Chronological Distribution (four courses): At least one course is required in each of the following areas: American history, European history, world/regional history. One of the four courses must focus on premodern history; a list of courses satisfying this requirement is available in the Course Areas section of the department web site.
Colloquium (Seminar) Requirement: Concentrators must take at least two colloquia (seminars). Ordinarily students specializing in one area of history should take colloquia in their designated field (e.g., those pursuing the American history track should take American history colloquia). If, however, suitable colloquia are not available, students may request their advisor's permission to take other colloquia instead.
Additional requirements for the specialty tracks are given below. A list of courses approved for each track is available in the department office and in the "Course Areas" section of the departmental Web site.

Track 1: History of the United States and the North American Colonies
Track 2: European History
Track 3: World/Regional History
Track 4: Intellectual and Cultural History