Herbert Warren Mason, Jr.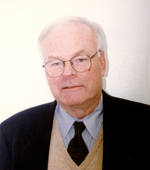 Professor Emeritus of History and Religion
A.B., A.M., Ph.D., Harvard University; advanced study in Islamics, Collège de France, Paris
Islamic history, Middle Eastern history, Irish history
Email: herbertwmason@comcast.net
Professor Mason has authored 13 books, including scholarly studies, translations from French and Arabic, memoirs, fiction, and poetry. He has written numerous encyclopaedia entries, reviews, and articles on a wide range of historical and literary subjects for journals published in the United States, England, France, Germany, and the Middle East. He was nominated for a National Book Award for his retelling of the Gilgamesh epic [Gilgamesh, A Verse Narrative (1970)] and translated Louis Massignon's 4-volume Passion of al-Hallaj (1983) for the distinguished Bollingen Series. His writings have been translated into several languages, and he has traveled widely by invitation as a scholar and author throughout Europe, the Middle East, and Japan. In addition to his academic and literary work, he has served by election on several professional foundation boards and committees and on advisory boards of journals. He serves as Vice-President of the Institut Louis Massignon of the Musée des Sciences de l'Homme in Paris.