The Keylor Years II (1991-1995)
1991-92
Shirley Wajda (who earned her BA at Boston University) was appointed Assistant Professor of History and American Studies.
Claudio Véliz, Director of the University Professors, was named Professor of History to teach courses in Latin American history.
Early in the 1991-92 academic year, the department began searches for three positions: an American political historian (to replace Professor Offner), a Latin American historian (Professor Glasgow's position), and an American urban/social historian (the Sam Warner position), but all three searches were canceled as the university continued to experience financial constraints. The number of teaching fellowships was cut, as was the budget for graduate assistantships. The department decided to limit the number of PhD students it admitted in view of the financial aid situation. Faculty teaching loads were also a subject of discussion, as the administration stated that each faculty member was expected to teach 80 students per semester.
Professor Sidney Burrell, who as department chair had first proposed department bylaws, revised them, and the department voted its approval of the revisions. A principal change arose from the attempt to define a department member. The decision was that all those appointed to the department (even on a short-term basis) are members, but only those with "continuing appointments" of more than a year are voting members. In this way those who, for example, hold adjunct appointments or ongoing non-tenure-track appointments would be regarded as integral members of the department.
At the end of the academic year Professor Wilson Moses resigned his position in Afro-American history to accept a position at Pennsylvania State University.
1992-93
Associate Professor David Mayers (photo at right) of the Political Science Department was named a member of the History Department as well. He teaches courses in American foreign relations.
Alan Taylor was awarded tenure and promoted to the rank of Associate Professor.
At the end of the academic year Saul Engelbourg retired from Boston University and was named Professor Emeritus of History, although he continued to teach part-time through the 1998-99 academic year. At a retirement reception in November 1993, former Chairman Sidney Burrell and others praised Engelbourg for his many years of service to Boston University. When Professor Reinhold Schumann retired, Engelbourg assumed the directorship of the Interdisciplinary Italian Studies Program and continued his fundraising activities for that program.
1993-94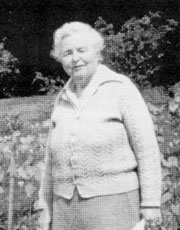 In November 1993 Professor Emerita Nancy Roelker (photo at right) died at the age of 78. In the January 1994 department newsletter, Professor William Keylor had this to say of her:
I first met Nancy Lyman Roelker on a chilly afternoon in the early spring of 1972 at her charming apartment near Harvard Yard. She had recently been lured from Tufts by her old friend Sid Burrell as part of his campaign to transform the Boston University department of history into a first-rate center of teaching and research. As she interviewed me for the position in modern French history that had recently become vacant, I observed many of those personal traits that endeared her to so many people in the course of her long and eventful career.

One was her fierce sense of personal loyalty, which in this instance pertained to Sid and other Europeanists in the department but which I was later able to observe on countless occasions in her relations with others as well as with me. Once one was admitted to her wide circle of friends, a privilege that I began to treasure on becoming her junior colleague and fellow specialist in French history the following year, one had the sense of becoming the object of a rare type of unconditional devotion that was certain to last a lifetime: A manuscript turned down by a publisher, a fellowship application rejected by a foundation, a critical review in a scholarly journal, a promotion case blocked for political reasons would prompt a telephone call spiced with equal doses of outrage at the injustice and soothing words of consolation for the victim. Conversely, the publication of a book, the winning of a teaching award, an appearance on television would bring a congratulatory message full of entirely genuine expressions of joy at one's achievement.

The second of Nancy's personal attributes that had become unmistakably evident to me from the beginning of our friendship was the skillful way that she handled her anomalous position as a respected, effective, influential, dare I say powerful, woman in a profession that had long been an almost exclusively male preserve. I had managed to get through Stanford and Columbia as a history major without encountering a single female professor. As the graduate student representative on a committee charged with recommending reforms to the Columbia history department in the wake of campus unrest in 1968, I had heard our proposal that a modest amount of financial aid be earmarked for female graduate students to redress the egregious gender imbalance dismissed by one distinguished professor with the witty rejoinder that "Where I come from, we give money to women for one thing only, and it isn't to go to graduate school." What an invigorating experience it was for a young male historian emerging from such an intellectual milieu to encounter, in his first full-time academic position, a strong-willed, self-confident, intelligent woman who had studied philosophy with Alfred North Whitehead and psychology with Erik Erikson and personified in her own career the values that would later be celebrated by proponents of feminism! Even more important was the critical function that Nancy served as a role model, adviser, and inspiration for so many talented young women historians who finally began to enter the historical profession in the seventies and eighties.

Whether observing her with awe as she worked the crowd at an American Historical Convention reception, or pensively strolling with her in "Benjamin Franklin's garden" at her beloved Greene Farm, I learned from Nancy the meaning of that untranslatable French phrase "bien dans sa peau." She knew where she came from, knew who she was, and knew what she wanted most of all out of life: to reach out and touch other human beings in an important, lasting way. She will be greatly missed by so many of us thus touched by her presence in our lives.

In January 1994 Bruce Schulman (photo at left) was appointed Associate Professor of History in the field of American political history (as a replacement for Professor Offner).
The Dean of the College approved the purchase of computers for six faculty members for use in their offices, with an assurance that eventually every faculty member would be provided with a computer.
In March 1994 Professor Emeritus Kenneth Bernard died at the age of 88. Bernard was a scholar of Abraham Lincoln and the Civil War and taught at Boston University until 1972. He directed the dissertation of Robert Bruce, who became Bernard's successor in teaching the history of the Civil War. On Bernard's death, Bruce said, "He was kindly, helpful, and dedicated to the study of Lincoln, whose spirit and even physical presence seemed reflected in his, as fine a compliment as anyone can hope for."
At the end of the academic year Associate Professor Alan Taylor resigned his position to accept one on the faculty of the University of California, Davis.
1994-95
William Keylor was reappointed Chairman of the History Department for a three-year term, but since he was on sabbatical in 1994-95, Professor Thomas Glick was named Acting Chairman for that year.

Diana Wylie (photo at right) was appointed Associate Professor of History in the field of African history (to replace Sara Berry, who had resigned three years earlier).
David Fromkin (photo at left) was named Chairman of the International Relations Department as well as Professor of History.