Shabbat and Holidays
The Jewish way encourages us to carve out time for rest, reflection and celebration, unplugging ourselves from the never-ending drumbeat of life. The whole BU community is welcome to join Shabbat and holidays celebrations.
Below is information about Shabbat (or what we tab Friday Night Lights) and Holiday celebrations.
---
Friday

Night Lights: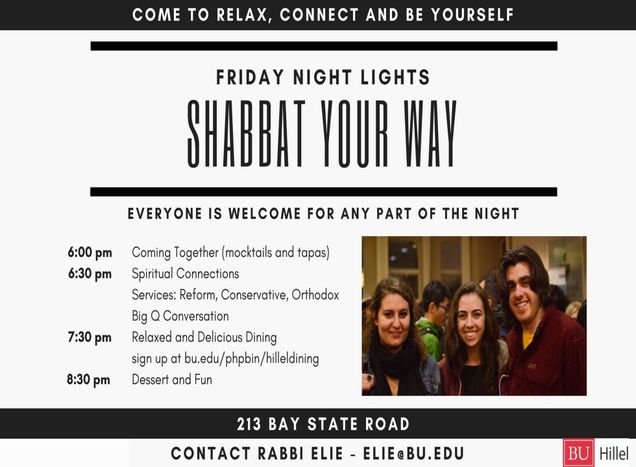 Every week Shabbat Your Way often with special guests from around campus and greater Boston.
5:30pm
Mocktails and Tapas
6:00pm
Spiritual Connections: song-filled services (Reform, Conservative & Orthodox) and Big Q Conversations.
7:00 pm
Delicious, family-style dinner.
8:00 pm
Dessert and fun.
After dinner plenty of time for water pong, games, shmoozing and activities.  
Open to all students. Come for any or all of the exciting weekly options.
---
Sign up for this week's Shabbat meal!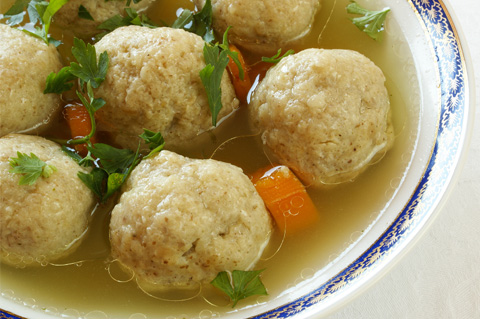 Make Shabbat special by joining us for a gourmet meal overlooking the Charles River on Fridays at 7pm. 
All are welcome and no one will be turned away.  To ensure plentiful food is available for our dinners, please sign up before Thursday at 12:00 pm. All meals are under the kosher supervision of the KVH Vaad of Boston.
Shabbat Meal Rates
STUDENTS ON THE KOSHER MEAL PROGRAM: You are automatically signed up for Shabbat dinner.
STUDENTS ON THE REGULAR MEAL PROGRAM OR LIMITED APARTMENT MEAL PROGRAM: Registration cost the same as any meal swipe.
STUDENTS ON NO MEAL PROGRAM: The cost for Shabbat dinner without a meal plan will be $16.50 (and well worth it!)
We want everyone to feel welcome to join for Shabbat dinner.  Cost should not be a barrier.  Please contact Rabbi Elie Lehmann at elie@bu.edu with questions about financial assistance.
Spirituality and Prayer
We have many opportunities throughout the week for students and community members to grow spiritually with community. Everyone is welcome and please come as you are.
Our tefillah (prayer) services are open to everyone! Orthodox, Conservative and Reform services are held simultaneously on Friday nights at 6pm. All services are filled with energy and singing, and held on the fourth floor of Hillel. Every week, concurrent with our services, many students gather for Big Questions conversations where space is made for everyone's voice. These conversations are led by peers, staff and special guests.
Shabbat morning services begin at 10:00am (Orthodox weekly, Reform and Conservative monthly).
Not sure which service you'd like to attend? Learn more about BU Hillel's religious communities below.
Religious Communities
Reform Community
The Reform Community at BU is affiliated with the Union for Reform Judaism. We hold services for Shabbat and holidays, along with social justice events, and times to just hang out and get to know each other!
Our dynamic services provide a sense of community and celebration through music and minyan participation. Prayers and songs during services are largely in Hebrew (transliterations are provided) and also include responsive readings that can be found in our siddur, Mishkan T'filah.  Song melodies and prayer choices may be centered on a theme, anything from a particular musician to favorite childhood songs.  Prayer services will sometimes be accompanied by an instrument, creating a lively musical environment. We also host several social action, educational, and social events that are open to the entire BU community.  The aim of the Reform Minyan is to be an accepting community that is open to all.
For more information, visit the group's Facebook page, or contact our student representative, Blake Dickler, bdickler@bu.edu. You may also contact our rabbinical intern currently pursuing her Smicha degree from Hebrew College, Rachel Kaplan at racheltalikaplan@gmail.com.

Conservative Community

The Conservative Minyan (C-Crew!) at Boston University Hillel is a traditional egalitarian prayer group.  We have Friday night services every Shabbat and Saturday morning services twice as well as services for all of the Jewish holidays.  These services are conducted in mostly Hebrew with some English using Siddur Sim Shalom (Hebrew, English) and Siddur Hadash's (Hebrew, English, Transliteration) books according to the participant's preference.  
We hope to create an inclusive and engaging community environment in which everyone is welcome to share and strengthen their religious experiences. Try leading a service, bring in a new tune, come to fun events, and share your smiles!  Conservative Minyan, along with the Religious Life Committee (RLC), Orthodox Minyan Group (OMG) and the Reform Minyan (Kehilah Kedosha), holds fun events, such as holiday themed event, , Minyan Potlucks,, movie nights, and more.
We are a student led group, supported by BU's campus Rabbi, Elie Lehmann. We offer students opportunities to learn how to lead a service, to bring in and teach a new tune, to read Torah and/or Haftorah, and to give a D'var Torah.  
For more information, visit the group's Facebook page (search Conservative Minyan at Boston University), or contact Connor Dedrick, cwded@bu.edu, or Rabbi Elie at elie@bu.edu.
Orthodox Minyan Group
The Orthodox Minyan Group (OMG) at Boston University is a very diverse community and has members from both Sephardic and Ashkenazic backgrounds. The student-led group runs weekly Shabbat services as well as holiday services, Shabbat meals, and Jewish learning opportunities. Some include Kabbalat Shabbat on Friday nights, Havdalah, and a semi-annual Shabbat potluck.
        In addition to religious opportunities, OMG offers a wide
        range of social events, such as breakfast and ice skating,
        apple picking, and March Madness tournaments.
        For more information on how to build community with other students in the BU Orthodox community, visit the                      group's
facebook page
or contact us at 
omg@bu.edu
or President Miriam Yifrach,
myifrach@bu.edu
. We look
        forward to getting to know you!
Questions?
For more information about Shabbat, please contact:
Rabbi Elie Lehmann, Campus Rabbi & Senior Jewish Educator, elie@bu.edu