Passover 2018
Passover falls Friday, March 30–Saturday, April 7, and BU students and community members are invited to join BU Hillel in celebrating! Please see below for the full schedule of events surrounding Passover that will be occurring at BU Hillel and throughout campus. Though seders are free for BU students with BU IDs, we do ask that you please sign up through the links below so we know who is coming.
We kindly request that no outside food be brought into the BU Hillel building from Friday, March 30-Saturday, April 7. We thank you for your help.
For any and all Passover questions, email Rabbi Elie (elie@bu.edu).
---
1st Night Passover
Friday, March 30, 7:15 pm – 5 Seder Options at BU Hillel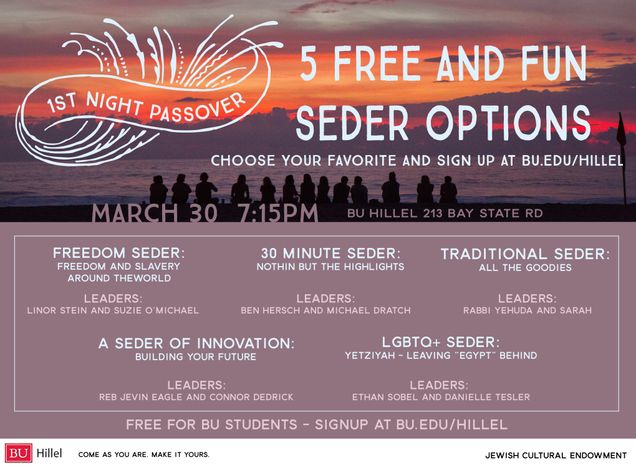 We have 5 options to make Passover your own! Each Seder has a different theme to help us feel liberated, and will be co-led with BU Students and Hillel staff. Since there is no right way to Seder, go with whichever is meaningful and fun for you. Food will be great and it's all FREE!

All Seders will be Kosher for Passover. Some will follow the traditional format and others will be radically innovative.
Freedom Seder (Linor Stein and Suzie O'Michael)

The Freedom Seder will focus on elements of freedom – historically, socially and personally. We will explore the relevance of the Exodus story in our lives in 2018, and dive into ideas of freedom and slavery around the world and within ourselves.
30 Minute Seder (Ben Hersch and Michael Dratch)

Don't even have enough time to read this blurb? Join in for this 30 minute, energized, only-the-highlights Seder and plenty of great food.
Traditional Seder: All the Goodies (Rabbi Yehudah and Sarah)

Enjoy a traditional Seder. We will be going through the whole Hagada and staying up for all four cups! Everyone welcome regardless of previous seder experience.
A Seder of Innovation: Building Your Future (Reb Jevin Eagle and Connor Dedrick)

What unites 

each generation of Jews to the previous one is tradition. Join our seder to explore a variety of Jewish narratives and think about how you want your future Passover experience to unfold.
Yitziyah – LGBTQ+ Seder (Ethan Sobel and Danielle Tesler)

Come enjoy a 60 minute Seder led by junior Danielle Tesler and Ethan Sobel, dedicated to inclusivity and empowerment for all. We'll be especially focused on invoking and honoring all LGBTQ+ and Ally lives and narratives. We will ask attendees to actively participate with readings, ideas, discussion around the passion for freedom and respect for all sexual orientations and gender identities.
Click here to signup for the free 1st night Seder that interests you
Required signup deadline for 1st seder at Hillel: Wednesday, March 28th
---
2nd Night Passover
Saturday, March 31 – Student Hosted Seders Across Campus 
Here's your chance to celebrate Passover your way with your friends.

Host a Seder with your friends! Your seder – your style. There's no right way to seder. Go with whatever is meaningful and fun for you. Hillel will give you a loaded seder plate, matzah, candles, grape juice and hagadot booklets, as well as reimburse you $15 per student who comes to your seder.
Sign up here to host a Campus Seder. No experience necessary. Anyone can do it.
Signup deadline to host: Wednesday, March 21th
2nd night of Passover Seders will be happening all over campus, hosted by students as well as Rabbi Yehuda and Sarah at their house.

Sign up here to be a guest at a Campus Seder.  If you know someone who plans to host you can write in their name otherwise we will match you with a Seder.

Signup deadline to be a guest: Friday, March 23th
---
Passover Services
Passover holiday services will be taking place at BU Hillel.  Keep an eye on the website for updated details.
Learning on Passover
Exciting Passover learning will be taking place at BU Hillel.  Keep an eye on the website for updated details.
Kosher for Passover Food in Fresh Fuel, BU Hillel Dining Hall
Fresh Fuel, BU Kosher dining hall at BU Hillel, will be open and serving Kosher for Passover lunch and dinner meals throughout Passover.
For information about seder meals, please look above.  To sign up for other yontif meals, please go to the regular online meals signup page here.
Please keep in mind that there will be a no outside food policy in the BU Hillel building during Passover.
---
Sale of Chometz
If it is your custom to ritually dispose of any chometz (i.e., leaven products that are not to be eaten during Passover,) in your possession, please complete this Chometz Sale Authorization and return it to the Rabbinical Council of New England by April 9. Please contact Rabbi Elie Lehmann  if you have any questions about this process.
Passover Resources
Novel Spins of the Traditional Seder
Melodies
Guides for a Sustainable Passover
Recipes
Local Food Resources
E-Cards