Prospective, Admitted, and New Students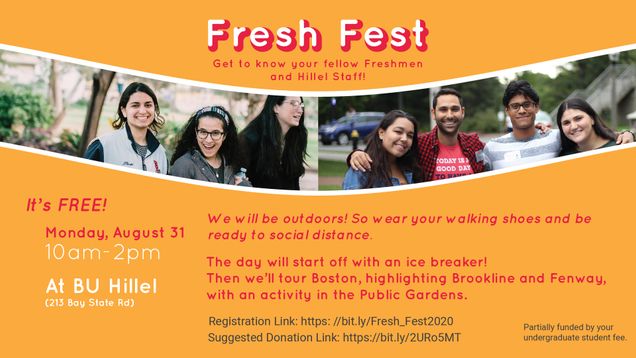 During the COVID-19 situation, the BU Hillel building will be closed until further notice. In line with Boston University, all classes are remote for students and on-campus activities cancelled. We will be in touch if we have your name/contact information for a virtual welcome to BU Hillel. You should be rest assured that whatever we face for the 2020-21 academic year, BU Hillel is going to be here for you – to care, support, and welcome you. Whether we are virtual, socially distant in person or other, BU Hillel staff and student leaders are planning to engage with the freshmen class.  Click HERE if you are an incoming freshman in the class of 2024.
If we don't have your information and you are a prospective or admitted student, please fill out the forms below, or contact Ethan Sobel (esobel@bu.edu) with any questions.
BU Hillel is excited to welcome all prospective, admitted, and new students!
For prospective and newly admitted students to BU:
BU is home to 4,000 Jewish undergraduates, with a vibrant BU Hillel program and staff serving the entire campus. We'd love to speak with you or take you on a tour of our beautiful building.
For new students attending BU:
BU Hillel has many incredible options for incoming students to find their passions or explore their curiosity. We offer a variety of programming and resources to help rising freshman adjust to college life, make new friends, and connect with fellow peers. More information about each of these options can be found below:
Learn more about Fresh Fest 2020 HERE!
Impact of BU Hillel