Stringhini Delivers Wed@Hariri Talk on Weaponized Online Content to a Packed Room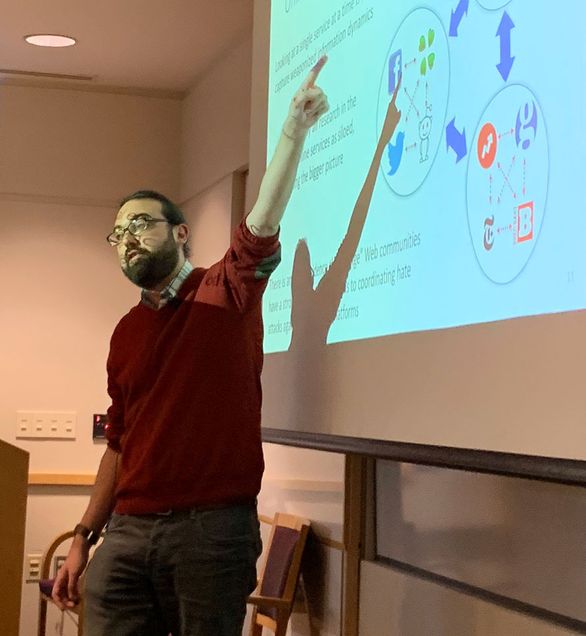 Yesterday, BU Assistant Professor of Electrical and Computer Engineering, and Hariri Institute for Computing Junior Faculty Fellow, Gianluca Stringhini gave a talk in front of a packed room on his research titled "Computational Methods to Measure and Mitigate Weaponized Online Information." This talk is part of the Wed@Hariri Talk Series where Hariri Institute Junior Faculty Fellows share their research with the Hariri Institute and Boston University communities. This particular talk was co-sponsored by the BU Cyber Alliance and was held at the Photonics Building.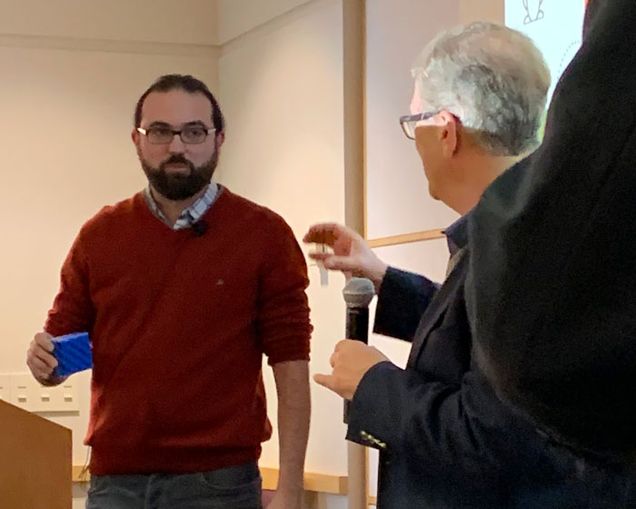 In his presentation, he spoke about the need to develop tools to trace malicious activity on the web in realtime. Firstly, he made the point that weaponized content is algorithmically generated on a large scale and synchronized across different media channels. This content applies to text-based posts on social media outlets but also includes images on such platforms as YouTube and Instagram. A popular image-based content type is memes, because of the ability to embed un-detectable text within the image. He went on to illustrate how online raids can happen over email. The process starts with someone receiving "weird" emails and progresses to more aggressive verbiage. Additionally, Stringhini spoke about state-sponsored disinformation being generated by Russia and Iran. These countries tend to use Twitter and Reddit as platforms to spread disinformation. When they get flagged and removed from online accounts, they simply move onto other social media platforms. He concluded his talk by outlining how we need to trace information across different forms of media. He also closed with the fact that better techniques are needed to establish influence in realtime.

Gianluca Stringhini is a recently appointed Junior Faculty Fellow at the Hariri Institute for Computing. This program recognizes outstanding early-career researchers at Boston University and connects them with the Institute community at large. For more information about the program, please visit the Junior Faculty Fellow program page. For a listing of future talks please visit the Wed@Hariri Event Page