Francisco Alarcon, BU Computational Artist-in-Residence Was Featured in BU Today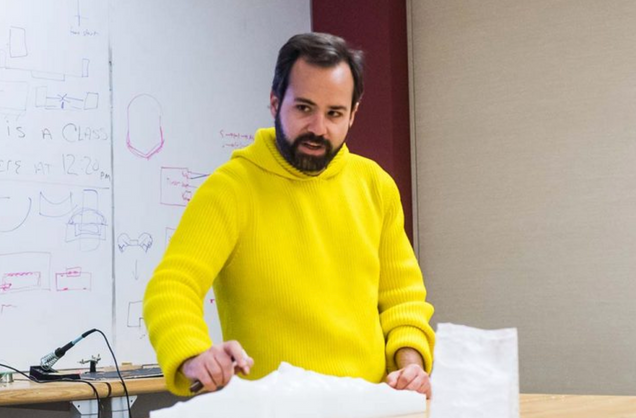 Francisco Alarcon, Boston University's first computational artist-in-residence and a digital artist was featured in a full-length article in BU Today recently. The article covers how he works with students of the College of Engineering and the College of Fine Arts and that he is a unicorn of sorts that can adeptly change "languages" between talking with engineers and fine art students. Azer Bestavros, Associate Provost for Computing and Data Sciences was quoted in the article, "Artists are the interface through which society expresses its anxiety, aspiration, and imagination, especially at times and in contexts where significant or rapid changes are afoot." Additionally, Alarcon mentors these students and guides them to explore the upcoming genre of creating artistic images and video sculptures using computer software and graphic designing tools. His work like the "WoodonWood", a series of three images that creates a representation of manufactured wood, is so accurate that only up close can one demarcate it to be a digitally created image is put up for display at BU Spark! at the Hariri Institute for Computing. Some of his other works like the "Normal Interfaces" which is an image of the 3-D model of a robotic arm can be viewed at the stairwell outside BU Arts Initiative office and Alarcon's "Narrative of the Wave", an image of a blue wave suspended in air can be viewed at the Kilachand Center for Integrated Life Sciences & Engineering lobby until December 15. Furthermore, Francisco believes that engineers and artists don't like to collaborate because they communicate in different languages is playing a significant role in bridging these two worlds together. As a Visiting Fellow of BU Spark! and the Hariri Institute for Computing, Alarcon asks the students he works with to explore the social and political implications of their works.
Francisco Alarcon holds an MDes in Art, Design and the Public Domain from the Graduate School of Design at Harvard University. He received an M.Arch from the Southern California Institute of Architecture and also holds an M.Eng in Civil Engineering. Currently, he is pursuing a Ph.D. in Visual Studies and Critical Media Practice at Harvard University where and is the co-founder of the Harvard Blockchain Group at Harvard Graduate School of Design. Francisco is most noted for his benchmark-setting work in computational art.