Shereen Shermak Named New Executive Director of Boston Women's Workforce Council
The Hariri Institute for Computing is pleased to welcome Shereen Shermak to her new role as executive director of the Boston Women's Workforce Council, a public-private partnership launched in 2013 to close the gender wage gap by removing barriers to advancement for women in the workforce.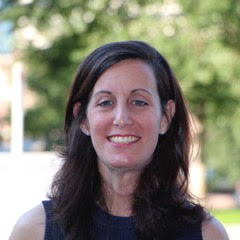 Shermak, an entrepreneur and accomplished angel investor, will be focused on recruiting more employers to the Council's 100% Talent Compact, a pledge that more than 220 Boston-area companies have taken to close the gender wage gap. By signing on, these companies commit to taking concrete, measurable steps toward establishing pay equity while anonymously providing employee demographic and salary data every two years.
The Hariri Institute's team of technologists continues to play an instrumental role in facilitating the reporting component of the 100% Talent Compact, which uses a novel web-based cryptographic construct that allows companies to share payroll information without being identified. Called multi-party computation, the pioneering method was developed by a team at the Hariri Institute's Software & Application Innovation Lab (SAIL) led by Andrei Lapets (GRS'11).
It enabled the BWWC—which is housed at the Hariri Institute—to issue a 2017 report indicating, through the analysis of payroll data for more than 112,000 area employees, that women working in greater Boston make just 77 cents for every dollar a man earns.
Shermak said she believes data plays a central role in the Council's efforts to achieve pay parity between men and women.
"I look forward to leveraging my background working in both the corporate and government spaces to make Boston the best city for working women of all backgrounds and races," she said. "I believe strongly in data-centric approaches to understanding what types of interventions work to advance women, and in creating return on investment for participating companies as part of the process."
Trained as an engineer, Shermak worked for six years with a global consulting management firm before joining the New York City government, where she helped post-9/11 recovery efforts as the executive director of operations for the small business services department of the city's Division of Economic and Financial Opportunity. She held executive roles in operations and strategy and technology product management at State Street and Fidelity Family Office Services, respectively, before transitioning into similar roles at startup organizations.
Shermak led the micro-VC firm Launch Angels (now Alumni Ventures Group) as its first outside CEO after co-founding BuysideFX, where she was vice president of product and a member of the management team. She held a similar role at the Boston-based startup Currensee, where she oversaw the Manager Selection Committee for the company's Forex offering.
She received her undergraduate degree from Duke University's School of Engineering, where she is currently on the Board of Visitors. She received her MBA from MIT's Sloan School of Management and holds an MPA from Harvard's John F. Kennedy School of Government.