Hariri Institute Hosts NSF Visioning Workshop
The Hariri Institute is pleased to have hosted the NSF Visioning Workshop: Towards Effective Community-University-Industry Collaboration Models in collaboration with the Initiative on Cities, Office of Corporate Relations, and Center for Information & Systems Engineering at Boston University. This workshop was sponsored by the National Science Foundation with in-kind support provided by IDC. This is the first of two workshops that aim to bring together stakeholders engaged in Smart & Connected Community (S&CC) projects for the purpose of examining successful partnership models, identifying metrics that partners agree are indicative of success, identifying potential or perceived impediments to broader success, and distilling generalizable lessons/patterns that may be applicable in other settings.
As a result of Boston University's multi-dimensional connections with the City of Boston, the Hariri Institute is uniquely positioned to coordinate the development of essential models for effective community/university/industry collaborations. Drawing on resources such as the Institute's Software & Application Innovation Lab (SAIL), BU has successfully engaged with external partners to bring computing and data-driven technologies to challenges faced by urban centers.
The main goal of this first workshop was to identify practices and perceived hurdles, as well as distill a set of questions that can be posed to a broader set of partners and projects in a planned second workshop that will illuminate the challenges faced by cities in advancing research projects that reach and positively impact communities.
The focus of the workshop sessions was not on technical details or specific outcomes, but rather on sharing the "big picture" of an admittedly small sample of integrative projects that exemplify academic-city partnerships. Partners of academic researchers shared their perspectives based on their experiences with various collaborations of best practices and challenges identified by project leads.
Having established a retrospective understanding of what worked in previous collaborations, participants pitched "moon-shot" as well as "low-hanging fruit" projects to identify two such projects (at both ends of the scale) that the group could use as case studies, illustrating how future collaboration scenarios could require or benefit from engagements with academic researchers and support from industry and/or foundations.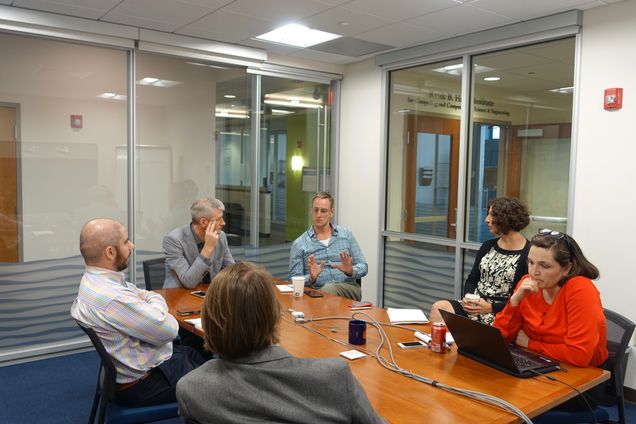 Teams worked to test the applicability of the collaboration reference model and associated processes for jointly tackling each one of the selected case studies/projects. Key components of the model and associated processes included: developing a process for defining the problem; creating alignment between outcomes and incentives; identifying funding sources, beneficiaries, and the information flow between stakeholders; designing a governance structure; and creating guidelines for the timing and type of cooperation that must take place among stakeholders.
The teams organized the outputs of their discussions into a model framework that could serve to organize the core components of a collaboration model. The workshop participants also prioritized and ranked the importance of the insights and associated "needs‐and‐wants" for each core component of the collaboration model. This process was meant to identify sustainable ways in which university‐based research can be translated into city pilot projects and deployments in partnership with industry.
The group of participants represented various stakeholders of existing community/university/industry collaborations and will now form a "program committee" that will assist in defining the scope and activities for a second workshop (to be planned).