BU Launches New Collaboration with Honda Research Institute
By Kaitlin Barnes
Increasingly, the products we use, including the vehicles we drive, involve computing capabilities that need new security solutions in order to operate safely and effectively.
The Hariri Institute for Computing is pleased to announce a new research collaboration between Boston University and the Honda Research Institute (HRI), a Honda R&D subsidiary, that will address these evolving information security needs. Facilitated through the Center for Reliable Information Systems & Cyber Security (RISCS), the collaboration brings together BU faculty and students with HRI scientists and engineers around topics of interest that include data privacy, consumer personalization, and user control.
"The synergy between Boston University's world-class research in data security and privacy and our approach and our experience in Cooperative Intelligence will enable significant progress to provide people with both confidence and trust in intelligent systems of the future."

Bernhard Sendhoff, Head of Global Operations of HRI and President of HRI Europe
As Honda scientists and engineers continue to pursue innovations in so-called cooperative intelligence, artificial intelligence with a focus on human cooperation, there is a clear need for the consideration and development of capabilities related to data security and privacy. BU is uniquely positioned to contribute to this cutting-edge research through the Hariri Institute for Computing and its work to initiate, catalyze, and propel collaborative, multi-disciplinary research throughout all computational and data-driven disciplines for the advancement of society. In particular, via its Center for Reliable Information Systems and Cyber Security (RISCS), the Hariri Institute promotes a multidisciplinary approach toward research regarding information security and privacy.
"As an incubator in a university setting, the Hariri Institute is excited to collaborate with Honda in developing a successful model for how academic research institutions can engage with industry to expand research opportunities. This partnership will enable excellent research by providing a unique path for academic researchers to work on problems of industrial importance and transition research results into innovative solutions."

Azer Bestavros, Warren Distinguished Professor and Founding Director, Hariri Institute for Computing, Boston University
BU and HRI share a vision to pursue innovative research and technology development by engaging computer scientists and engineers in both organizations, as well as from other top academic institutions. The primary goal of this collaboration is to advance research projects focused on emerging and translational technologies in a variety of areas, including data privacy, consumer personalization, and user privacy control. In addition, this collaboration aims to facilitate the dissemination and adoption of innovative research results through colloquia, publications, fellowships, and public forums that involve the broader BU and HRI research communities.
With the first request for proposals (RFP) announced earlier this year, the new collaboration recently reached its first milestone. Representatives from HRI visited Boston University in late April for a day of research discussion and proposal presentations. The delegation met with Jean Morrison, the University Provost and Chief Academic Officer, for a briefing on BU's research and academic profile, with a special focus on the ongoing expansion of the University's Computer Science department.
"For a global research university of BU's scale, data protection is an area of study that uniquely connects so many diverse disciplines being explored across our two campuses. We believe purposeful collaborations such as this one have the capacity to produce practical discoveries of considerable impact, as well as to serve as a model for future academic-industrial partnerships."

Jean Morrison, Boston University Provost and Chief Academic Officer
Throughout the day, HRI representatives met with faculty groups representing several research areas at BU, including cryptography, the sharing economy, automated image learning, and object recognition. The visit concluded with three excellent proposal presentations from BU researchers, which tackled a variety of challenges related to vehicle privacy and assistance systems. The collaboration's Oversight Committee, comprised of three HRI representatives and three BU representatives, are excited to announce that one particularly intriguing project will be funded at this time.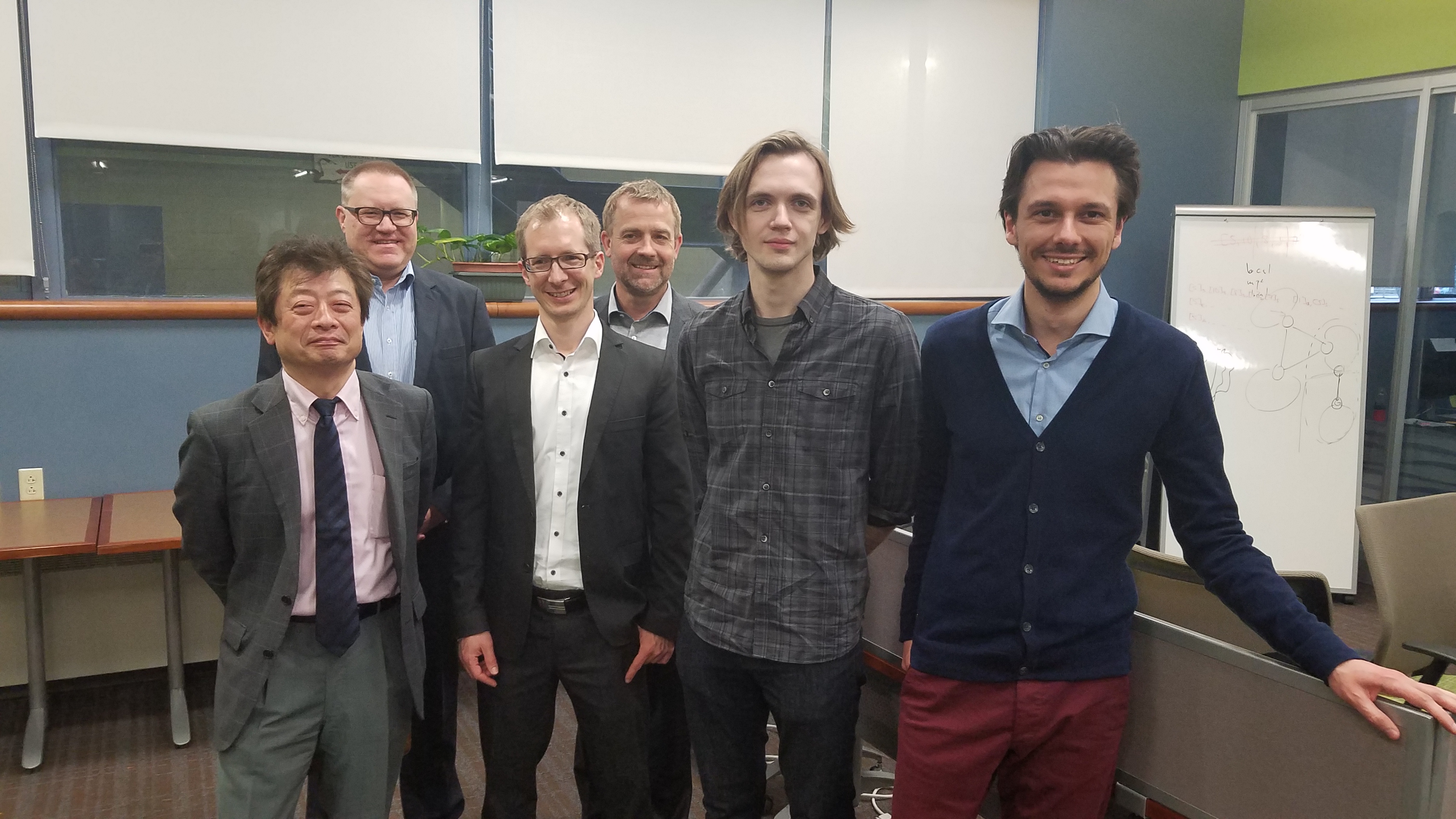 The Personalized Policy-Based Privacy-Preserving Geospatial and Temporal Data-Driven Services project, led by Andrei Lapets (PI), Assaf Kfoury (Co-PI), and Frederick Jansen (Senior Personnel), will use secure multi-party computation (MPC) tools to create a prototype platform that can extend the capabilities of mobile and web services (such as route planning) that rely on sensitive temporal and spatial user data in order to provide secure, personalized services.

The platform will allow users to control how their data can be shared – and how other users' data can influence their results – while securely analyzing a multitude of contributed data to offer user-specific suggestions. Lapets' project aligns BU's academic strengths with HRI's interests, and provides an opportunity to develop excellent research with real-world applicability. Additionally, the project offers a unique pathway to pursue follow-on research.
Following a successful first round of proposals and funding, BU and HRI are excited to support the collaboration's first project as well as continue to develop new ideas and opportunities for future research. To achieve these goals, collaborators have designed a framework for the pursuit of sponsored research, incubated projects, and fellowship and internship programs for students and visiting scientists. The collaboration provides a unique path for academic researchers to work on problems of industrial importance and transition research results into real products. Additionally, it offers tremendous experiential learning opportunities for BU students.
[Link to Honda Research Institute]
[Link to Honda press release]