Q&A with MaryRose Mazzola of the Boston Women's Workforce Council
In early January, Mayor Martin J. Walsh and the Boston Women's Workforce Council (BWWC) released the 2016 gender wage report and announced a new academic partnership with Boston University, where the BWWC is now hosted within the Hariri Institute for Computing.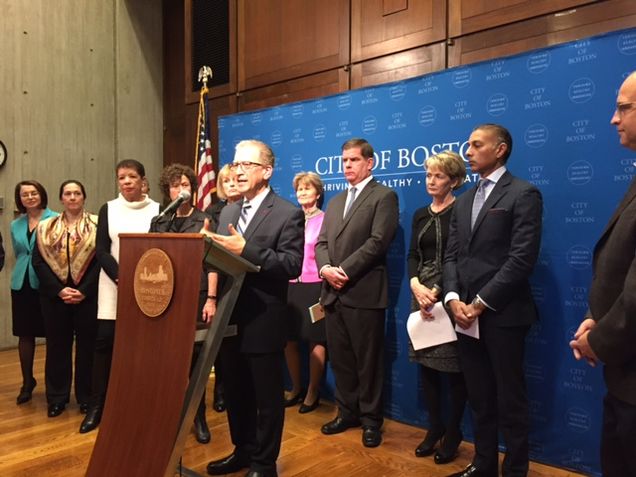 Institute Founding Director and Professor of Computer Science, Azer Bestavros, notes that the "partnership is a natural outgrowth of our collaboration with the BWWC to develop the software platform for privacy-preserving analytics used in the 2016 gender wage report." He also cites the importance of bringing computer scientists and social scientists together to pursue ground-breaking, data-driven research. We caught up with BWWC Executive Director, MaryRose Mazzola, to ask her a few questions about the Council and new partnership with BU.
Q&A with MaryRose Mazzola, Executive Director of the Boston Women's Workforce Council
What is the Boston Women's Workforce Council?
The Boston Women's Workforce Council, or BWWC, is a collaboration between the City of Boston under Mayor Martin J. Walsh's administration and Boston University. The BWWC was started in 2013 by former Mayor Menino, who brought together a group of leaders and tasked them with finding a way to better advance women in the workforce. The team concluded that closing the wage gap would not only have the most widespread impact on women in Boston, but also help to decrease the city's poverty rate, bolster the local economy, and position Boston as a national leader in the workforce. Leveraging these drivers, the Council created the 100% Talent Compact to engage Boston's local businesses in the campaign to reduce the gender-based wage gap. When Mayor Walsh took office in January 2014, he created a new department, the Office of Women's Advancement, to oversee the full spectrum of issues pertaining to women.  A major part of Mayor Walsh's plan for improving the status of women was to expand the impact and effectiveness of the BWWC. 
What is the 100% Talent Compact?
The bulk of the Council's work focuses on 100% Talent: The Boston Women's Compact. The Compact is a first-in-the-nation, public-private partnership in which businesses pledge to take concrete, measurable steps to eliminate the wage gap in their company and to report their progress and employee demographic and salary data anonymously every two years. Over 180 businesses have signed on, including three Fortune 500 companies, and we're adding new signers regularly.
How has the ongoing collaboration with BU researchers enabled the work of the BWWC?
For the past three years, we've been working with Hariri Institute researchers and software engineers from the University's Software & Application Innovation Lab (SAIL) to develop a secure software platform that uses privacy-preserving analytics to enable aggregation and detailed analysis of real wage data. The platform allows Boston's 100% Talent member companies to participate in a process that yields aggregate pay analytics using highly confidential payroll information from each of the participating companies. It's unique in that it enables the computation of aggregate pay equity analytics without the risk of revealing any sensitive, company-specific information to any party involved in the process, whether that party is another 100% Talent member company, the BWWC, or BU (the platform owner and operator).
Why is it so crucial to collect and analyze this data?
This data is the first of its kind – it's participation and wage data provided by employers in the Greater Boston area and broken down by gender and race. When you see an estimate of the wage gap, it is almost always based on Census data or Bureau of Labor Statistics surveys, all of which show employee-provided data. This kind of collection has inherent inconsistencies; one employee could report their salary including bonus or commission, while another may not. Employer-provided data is much more consistent and reliable. We have also assembled a unique data set of employers in the Greater Boston area to create a regional wage gap baseline, against which to measure future progress. All of this is important because it brings reliable data to a discussion that has been going on for decades. Now, instead of just debating whether or why there is a gender pay gap, we can know for sure – and begin to take concrete steps to close it.
What are you looking forward to with the new partnership between BWWC and BU?
We are thrilled to be located at the Hariri Institute after having worked with them for the past three years on creating this data collection process. I think the colocation will be hugely beneficial for both of us. We can learn how to improve upon the data collection process we currently have in place from our partners at the Hariri Institute and SAIL, and we can help inform their research by providing feedback from employers using the interface. I also think that the BWWC can serve as an early example of the enormous potential of the work being done at the Institute. We are just the first iteration of what I'm sure will be many applications of this software, and we're excited to see all the ways in which it solves social issues through data collection and analysis.
How can the lessons learned from pay equity analysis be used to confront other issues of equity/inequity?
We at the BWWC believe that measuring a problem is the first step to solving it, and I think that applies to many issues of inequality. There are many problems that we know are widespread and have existed for a long time, but to truly have an impact you must convince others of that, including those who may not be your natural allies. For that, you need reliable data. I have seen the impact that our data analysis has on bringing partners to the table, and I think it could do the same for other social issues that haven't been approached quantitatively in the past.
How do you see the BWWC growing and expanding in the future?
As a first step, we plan to expand the number of employers signed on to the 100% Talent Compact. This time last year, we had 55 signers; we're now up to 181 and our goal is to hit 250 this year. Each company or nonprofit that joins the Compact means more (and therefore, better) data, as well as additional commitment to closing the gender wage gap through best practices. This year, we are hosting one membership briefing each quarter, and each is dedicated to a different subset of best practices to close the wage gap. We have also shared our model with other cities interested in this work; just last week Mayor Walsh presented our report at the U.S. Conference of Mayors winter meeting.
We would love to have a day where there is no gender pay gap to close, but until then, we hope to keep adding private and nonprofit partners and to collect data to track progress on the issue.
For more information about the BWWC, please visit their website or contact MaryRose Mazzola at maryrose.mazzola@bostonwomensworkforcecouncil.org.
For more information about BU's Software & Application Innovation Lab and research at the Hariri Institute for computing, please contact Andrei Lapets, Research Scientist and Director of Research Development, at lapets@bu.edu.
[Boston Women's Workforce Council 2016 Report]
[BWWC and BU partnership announcement]
[BU Today article about the BWWC partnership with BU]