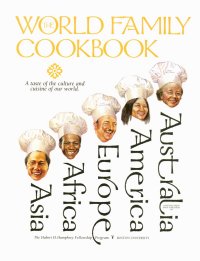 The World Family Cookbook unites recipes from small villages in Africa and big cities in Europe, well-loved family recipes passed down from grandmothers and brand-new ones donated by professional chefs.
Also collected on its pages are rhymes and sayings from around the world that are a recipe of their own — a recipe for living inside the amazing tapestry of our world:
Recipes
The cookbook includes more than 100 recipes from all over the world: appetizers, breads, salads and side dishes, soups, main dishes and desserts.
Art Work
The art work was donated by prominent artists from three continents: from Europe, Emilian Stankev (Bulgaria); from the US: Michael Lenn, Peter Ferber and Carly Russell (fourth grade student); and from Africa, Charles Acrofi (Ghana).
Rhymes and Proverbs
The pages of the cookbook also collect wit and wisdom from around the world — the words of the wise and many families' favorite sayings:
"Cabbage: a familiar kitchen-garden vegetable about as large and wise as a man's head."
— Ambrose Bierce