Yongju Park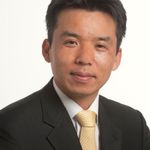 Before joining the Humphrey Program, Mr. Yongju Park was senior deputy director of the Korean Intellectual Property Office (KIPO), and he worked for eight years in different divisions of KIPO, including the international cooperation division, patent examination divisions, and the human resource development division. During his tenure at KIPO, he participated in various international meetings and seminars on intellectual property, held by the World Intellectual Property Organization, the World Trade Organization, and the Asia-Pacific Economic Cooperation. He also designed a career development program for KIPO employees.
Mr. Park has a bachelor's degree in mechanical engineering from Seoul National University. He also spent six months studying patent policies of the United Kingdom with Kilburn & Strode, a law office in London. While participating in the negotiation of the Doha Development Agenda regarding intellectual property in 2004, he edited a book entitled The Guide to the Agreement on Trade-Related Aspects of Intellectual Property Rights.
During his Humphrey year, Mr. Park plans to explore the relationship between intellectual property and international trade. He also hopes to enhance his knowledge of how government policies affect the creation and utilization of intellectual property rights in both the private and academic sectors.