Hongjin Park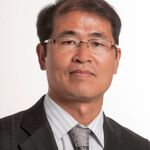 Mr. Hongjin Park has served for the last four years as senior deputy director at the Ministry of Strategy and Finance in Korea, where he facilitates economic policy coordination among ministries. His specific focus is on small- and medium-sized business support and financing, and the enhancement of business environments.
Previously, Mr. Park worked for five years at the Korea Fair Trade Commission as a lawyer specializing in mergers and acquisitions and franchise regulation. He also worked for the Ministry of Foreign Affairs and Trade, where he successfully coordinated the preparatory talk for the Korea-U.S. FTA. In addition, he has advised the prime minister of Korea on macroeconomic and financial issues.
Mr. Park earned his bachelor's degree in law and master's degree in antitrust law from Seoul National University in Korea. He became an attorney at law after graduating from the Judicial Research & Training Institute, run by the Supreme Court of Korea. He also participated in the Sejong-Syracuse Global MBA program, a joint MBA program between Sejong University in Korea and Syracuse University.
During his Humphrey year, he will focus on banking, finance, and their regulation, and policy coordination between financial regulatory authorities.