Publications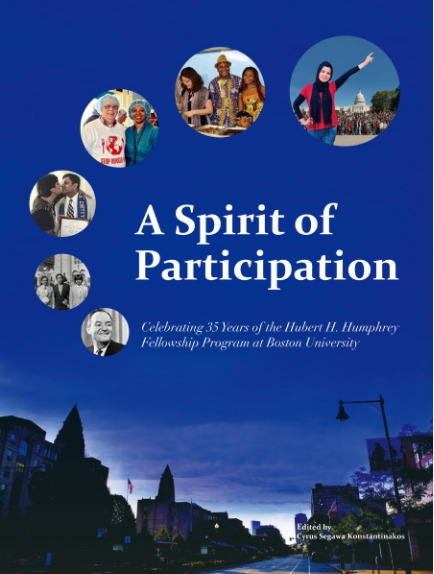 A Spirit of Participation: Celebrating 35 Years of the Hubert H. Humphrey Fellowship Program at Boston University (2014)
The largest catalogue of reflections on the Humphrey Fellowship Program ever produced, with reflections by more than 150 alumni and supporters dating back to the early 1980s. Sponsored by the Office of the Provost at Boston University and compiled and edited by Assistant Director Cyrus Segawa Konstantinakos.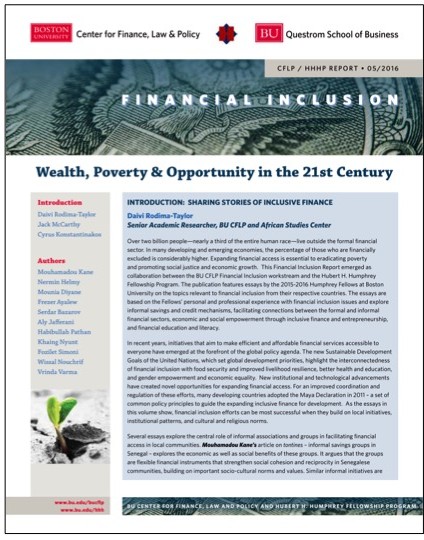 Wealth, Poverty & Opportunity in the 21st Century (2016)
Reports by 2015–2016 Humphrey Fellows on financial inclusion initiatives underway in their respective countries. Additional contributions by Fulbright/Nehru Fellow Vrinda Varma and Bunker Hill Community College Professor Wissal Nouchrif. This report was a collaboration between the Humphrey Program and the Center for Finance, Law & Policy (CFLP) at Boston University. Edited by CFLP Researcher Daivi Rodima-Taylor and HHHP Assistant Director Cyrus Konstantinakos.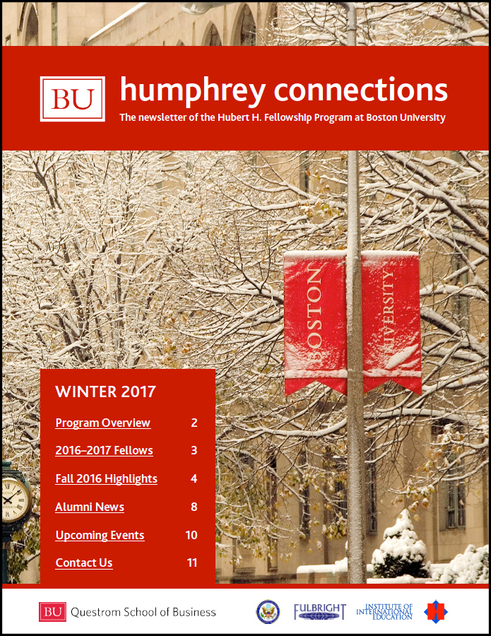 BU Humphrey Connections Newsletter (Winter 2017)
Program and alumni news from the fall and winter. Edited by Assistant Director Cyrus Konstantinakos and Program Manager Jelena Durkovic.
A booklet introducing Hubert H. Humphrey and several of his contributions to global peace, security and friendship. The volume includes over fifty photographs and rare images such as hand-annotated drafts of Humphrey's 1948 "Into the Bright Sunshine" speech and Peace Corps Bill, a letter to Hubert Humphrey from Dr. Martin Luther King, Jr., and the transcript of a televised debate between Humphrey and Strom Thurmond—Humphrey's political nemesis for nearly two decades—just weeks before the Senate voted on the Civil Rights Act of 1964. Compiled and edited by Assistant Director Cyrus Konstantinakos.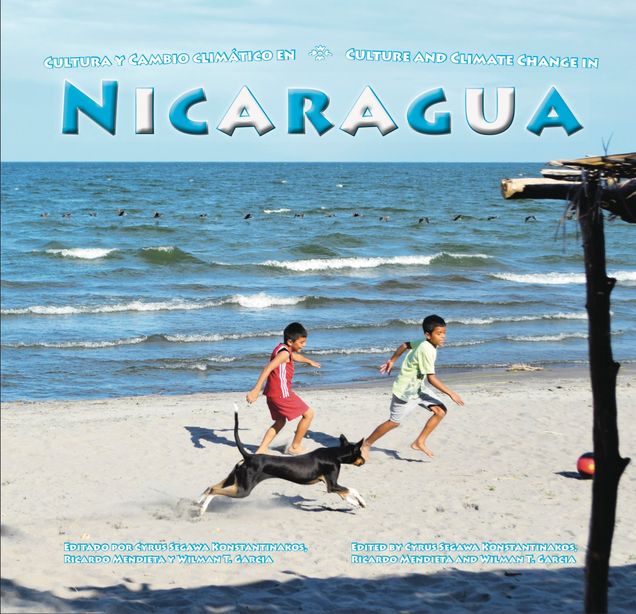 Culture and Climate Change in Nicaragua
A book of bilingual photo essays produced by students of the National Autonomous University of Nicaragua at Managua (UNAN-Managua) and Boston University, UNAN-Managua faculty, Peace Corps Volunteers, and Humphrey Fellows. Led BU HHHP Assistant Director Cyrus Konstantinakos and 2013–2014 alumnus Ricardo Mendieta (Nicaragua) with support from Jovita Tamosaityte (Lithuania/Michigan State) and several other Fellows. Sponsored by two Public Diplomacy Grants with additional support from the U.S. Embassy in Nicaragua, UNAN-Managua, Peace Corps, National Geographic Learning, Boston University, and members of the Hubert H. Humphrey Family.