Kira Sullivan-Wiley
GWISE Spotlight on… Kira Sullivan-Wiley (Middlebury, CT)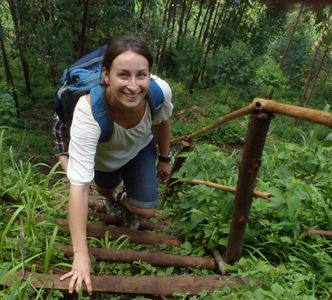 Department/Program: Earth and Environment
Research: humans, disaster risks, and land management in Eastern Uganda
Likes: camping, hiking, rock-climbing, karoke, dancing, road trips and any other kind of travel
Favorite animal: Okapis are the awesomest animal alive. A relative of the giraffe, the okapi looks like a giant horsey zebra with a friendly face and ossicones and it lives a secretive, reclusive life deep in the central African rainforest!
Research tool she can't live without: digital recorder for interviews
Favorite Scientist: Robert Koch- clean, elegant science!
Best brain food: kale and banana smoothie
This month's spotlighted member is Kira Sullivan-Wiley! Each month, GWISE will profile one of our members in the newsletter and on our website (please send nominations to gwise@bu.edu).
Kira is a PhD candidate in Anne Short's Human-Environment Group in the Earth and Environment Department.  She is also the incoming Vice President of GWISE and a recipient of a Graduate Research Abroad Fellowship, which is funding her work in Uganda.  We caught up with Kira this Spring to talk about field work, GWISE leadership, and surviving grad school.  Read on for amazing adventures in Uganda, hilarious cocktail party conversations, and thoughtful reflections on the future of GWISE.
GWISE:  Tell us a little bit about your research.
Kira: I work with the Red Cross and other organizations to find ways to help people in disaster-prone and less developed areas of the world to be better harness the benefits of their land and also to lessen its risks. Specifically, I work in Eastern Uganda to help farmers manage their land for higher crop yields and lower risk of soil loss and landslides!
GWISE: How did you get into this kind of work?
Kira: I grew up completely enamored of the outdoors. I loved everything about it- plants, animals, the wild variety of New England weather- everything. I feel that I've benefited hugely from my positive relationship to nature and the land and now I work to try to bring find out ways to bring that benefit to others.
GWISE: So your fieldwork takes you to Eastern Uganda!  That must be amazing, and quite a culture shock.
Kira: Time moves differently in Uganda, at least in the part of it where I work, and being on "muzungu" (foreigner) time is less important than greetings. Each day involves many greetings. Most days I would walk to my workplace across town and, in Uganda, if you see someone you know, while walking, it is polite to stop and exchange a greeting with them. In a town like this, many people know each other well and the greetings can take quite some time! At first I was thrown off by the balance between punctuality and the importance of this social norm, but I got used to it pretty quickly and came to appreciate greetings and the sense of belonging it engendered!
GWISE: Tell me a bit about your plans for fieldwork this fall?
Kira: For the months that I'll be in Uganda this year, I have a pretty packed schedule.  I'm really excited to spend my first weeks there studying Lugisu/ Lumasaaba at a language school outside Kampala– this is the language spoken by the people in the region where I'll be conducting my fieldwork. Though I'll still employ a translator for interviews, it'll be wonderful to be able to speak with people myself, too! The rest of the time there will be filled with interviews with government and NGO personnel as well as farmers, focus groups of male and female farmers, household surveys in 4 different villages, and some really cool mapping projects with people.
GWISE: Sounds like an incredible adventure!  Back in Boston, how has your experience as a woman in science affected your career trajectory through undergrad and graduate school?
Kira: I have been hugely fortunate as a woman in science to have had more than my fair share of supportive female and male mentors throughout my career. My mother has also encouraged my curiosity and scientific thinking from a young age, so it never occurred to me that science wasn't for girls! I majored in Ecology and minored in Molecular Biology during my undergrad, and studied Climatology and the human dimensions of climate variability and change for my Masters. Though occasionally individual people would express negative or derogatory feelings toward women in science, I found that it was always possible to look at the next ten people beyond them and find support, encouragement, and trust in my capabilities. I am doing what I love and I am good at it. Though I welcome constructive criticism on my work, there is no one who can tell me that my career choice is wrong.
GWISE: Well said!  So, you studied Climatology and human dimensions as a Master's student at Columbia University before coming to BU.  How have previous graduate studies helped to prepare you for life as a PhD student?  Was it an advantage as you settled into your lab, applied for grants, or took your qualifying exams?
Kira: For me, having gone through this process was essential, but less so in the way it prepared me for any particular task, and more because it was the opportunity my mind needed to figure out what it wanted to pursue! My masters was an intellectual bridge between my undergraduate work in ecology and my PhD work in land management and development. I also benefited from the program through the networking opportunities it provided– one of which led directly into my PhD work in Uganda– and the experiences I had at that time also helped to firm up my personal academic philosophy. It helped me to understand who I was as a researcher and where I wanted to go. For me, the benefits of the masters were innumerable, but every path is different and I know many successful PhD students who shot straight out of undergrad into their PhD, or who took a few years to work, who are doing just great! I'd even argue that the years between my undergrad and masters, where I traveled and worked, were no less important for my current work than was the masters itself. Every experience, whether academic or not, is a learning experience that can help prepare you for whatever is to come.
GWISE: Has so much time in higher ed given you a special perspective on nerdiness?
Kira: Being nerdy, I think, frees you up to enjoy what you will without worrying about how cool that thing is. I take my binoculars on hikes- sure, it looks nerdy, but most of my friends get a kick out of seeing birds close up, too. I refer to conclusions I make in lay-life based on the sample size I drew from ("I'm basing this on an 'n' of 2, but I find that…."). I organize my movies by genre and source and my bookshelf in a similar way. Life is richer as a nerd!
GWISE: As a PhD candidate, what is your favorite form of procrastination?
Kira: Facebook, my blog, or laundry…
GWISE: …And, what is the most effective way to get things done?
Kira: I recommend joining an accountability group! Last year I joined an Accountability Group, set up through GWISE. GWISE placed me in a group with 3 other fantastic scientists at a similar point in their graduate careers and throughout the Fall and Spring semesters we have met about once per week. It has been the best thing I've done since coming to BU. These women have shared my successes and frustrations, have read and provided feedback on draft after draft of papers and grant applications, and I have done the same for them. Without GWISE, this program would not have been available, and it is just one of the many opportunities GWISE finds and brings to the community here at BU. Also, I find that sleeping an appropriate amount each night (for me, it's between 6.5 and 7.5 hours), and eating lots of leafy green vegetables is the best. My parents (a psychologist and a public mental health director) always emphasized the importance of physical health in supporting mental health.
GWISE: Obviously the accountability group, sleep, and leafy greens are working for you — in addition to recently receiving a Graduate Research Abroad Fellowship, you are also the Vice President-elect of GWISE!  What are your most ambitious plans for your VP term with GWISE?
Kira: I think that GWISE is a fantastic organization with an admirable short history, but of course there is room to grow and improve. I look forward to working within GWISE toward increased inclusivity with respect to the non-woman base of GWISE supporters and friends in the community! There are lots of folks out there that may not identify as "women", but who still support and work for the rights and activities of women in science. I think it's important that these people feel welcomed by GWISE, and by the end of my term I hope they will be!
GWISE: I love your enthusiasm for GWISE!
GWISE, to me, is an organization that represents everything good about the potential of women in science. The events help us to build ourselves as scientists, as people, and as members of a broader community; they also connect us to others that want to do the same. I love that GWISE is run, not by distant administrators, but by committed graduate students who listen to their community and work hard to bring together whatever resources they can to build the BU scientific community for women.
GWISE: And finally, what is your favorite part of your work?
Kira: I love discovery. There is nothing like the feeling that comes from taking raw data and bringing out its story. This is true for any kind of science, and I just happen to love the stories that my data has to tell.
Thanks Kira!