New From CWPNM:
Bibliography of analysis
and criticism of international coverage in U.S. media
______________________________


Bin Laden is probably among the billions watching broadcasts of soccer's World Cup
Soccer's World Cup: War and Politics by Other Means
"I have a pretty good idea where Osama bin Laden will be on June 14 — and June 19, and again on June 23," writes Tony Karon. "Not his exact location, but it's a safe bet he'll be in front of a TV tuned in to Saudi Arabia's World Cup soccer matches with, respectively, Tunisia, Ukraine, and Spain. Legend has it that soccer is one of bin Laden's guilty pleasures. He's unlikely to miss the spectacle of the men from the land of the Prophet taking on the infidels of al-Andalus. He probably has a soft spot for Tunisia too, that country being the only one on record thus far to see one of its professional soccer players attempt to join al Qaeda's martyrs.
"Nor will bin Laden be alone among America's enemies in spending June engrossed in the quadrennial spectacle of the World Cup, staged this time in Germany. Iran's President Mahmoud Ahmedinajad has even threatened to show up if Iran progresses beyond the first round. Seeking to burnish his populist credentials at home, Ahmedinajad recently allowed himself to be photographed in sweats kicking a ball around with the Iranian team during a training session. You can bet Kim Jong-il will watch, too, even though it is South Korea that represents his nation's hopes this year.
"President Bush may give the event a miss — one can only wonder what he would make of a game in which the U.S. has a negligible chance of being world champion; for Americans with qualms about their country's imperial role, by contrast, supporting the plucky and rather well-liked outsiders of Team USA is an opportunity for guilt-free patriotic fervor. But you can be sure that Bush allies like Tony Blair, Angela Merkel, Jacques Chirac, Junichiro Koizumi, and Silvio Berlusconi (who actually owns AC Milan, one of Italy's top teams) will watch their countries' every game.
"No global event commands anything close to the attention paid the World Cup on all five continents. As many as 3 billion people are expected to watch some of it on TV, while 250 million more will cluster around radios to follow every play.... The billions who tune into the World Cup are watching a game that, at the highest level, largely negates all advantages of social class or even physical stature -- the combination of speed, skill, imagination and organization required to prevail is a great leveler. But at the World Cup, soccer is far more than a game.
" 'What do they of cricket know who only cricket know,' wrote the legendary Trinidadian historian and socialist CLR James, insisting that the spectacle of men in white flannels on a grassy oval engaged in a five-day contest of bat and ball, with strictly observed breaks for lunch and afternoon tea, could only be properly understood in the context of the political and cultural conflicts of the British Empire. If James had lived long enough to see the national team of his beloved Trinidad qualify for the elite 32 teams that will contest the 2006 World Cup, he'd surely have made the same point about soccer (even if, like most of humanity, he'd have called it football').
"James recognized sport as a ritualized combat, matching only war in its ability to channel national passions. Those passions are tied, for better or worse, to an almost mythic connection fans make between their team and their national narrative -- when facing Germany, English fans routinely chant lines like: 'Two World Wars and one World Cup' (linking their defeats of Germany on the battlefield and the soccer field). Click here to read the full article, while the author's World Cup weblog can be found here.
Bacevich: Imperial Troubles
U.S. Global Hegemony Confronts Harsh Realities
Once, Andrew Bacevich fought in the same ideological trenches as the neoconservatives in publications such as the National Review and the Weekly Standard. But as the former Vietnam veteran and long-time professional military officer began to sense that the neocons had been seduced by visions of American Empire, he began to distance himself from them, becoming one of the most thoughtful critics of the current malaise in U.S. national security policy. In a typically thoughtful interview, Tom Engelhardt of the always excellent Web magazine TomDispatch, engaged Bacevich on a range of contemporary crises confronting the U.S.
"It's become incontrovertible that the Iraq War is not going to end happily," Bacevich tells Engelhardt. "Even if we manage to extricate ourselves and some sort of stable Iraq emerges from the present chaos, arguing that the war lived up to the expectations of the Bush administration is going to be very difficult. My own sense is that the officer corps -- and this probably reflects my personal experience to a great degree -- is fixated on Vietnam and still believes the military was hung out to dry there. The officer corps came out of the Vietnam War determined never to repeat that experience and some officers are now angry to discover that the Army is once again stuck in a quagmire. So we are in the early stages of a long argument about who is to be blamed for the Iraq debacle. I think, to some degree, the revolt of the generals reflects an effort on the part of senior military officers to weigh in, to lay out the military's case. And the military's case is: We're not at fault. They are; and, more specifically, he is -- with Rumsfeld being the stand-in for Robert McNamara. Having said that, with all the speculation about Bush administration interest in expanding the Global War on Terror to include Iran, I suspect the officer corps, already seeing the military badly overstretched, doesn't want to have any part of such a war. Going public with attacks on Rumsfeld is one way of trying to slow whatever momentum there is toward an Iran war. I must say, I don't really think we're on a track to have a war with Iran any time soon -- maybe I'm too optimistic here -- but I suspect even the civilian hawks understand that the United States is already overcommitted, that to expand the war on terror to a new theater, the Iranian theater, would in all likelihood have the most dire consequences, globally and in Iraq.
... There are a couple of important implications that we have yet to confront. The (Iraq) war has exposed the limited depth of American military power. I mean, since the end of the Cold War we Americans have been beating our chests about being the greatest military power the world has ever seen. Overshadowing the power of the Third Reich! Overshadowing the Roman Empire! Wait a sec. This country of 290 million people has a force of about 130,000 soldiers committed in Iraq, fighting something on the order of 10-20,000 insurgents and a) we're in a war we can't win, b) we're in the fourth year of a war we probably can't sustain much longer. For those who believe in the American imperial project, and who see military supremacy as the foundation of that empire, this ought to be a major concern: What are we going to do to strengthen the sinews of American military power, because it's turned out that our vaunted military supremacy is not what it was cracked up to be. If you're like me and you're quite skeptical about this imperial project, the stresses imposed on the military and the obvious limits of our power simply serve to emphasize the imperative of rethinking our role in the world so we can back away from this unsustainable notion of global hegemony.
"Then, there's the matter of competence. I object to the generals saying that our problems in Iraq are all due to the micromanagement and incompetence of Mr. Rumsfeld -- I do think he's a micromanager and a failure and ought to have been fired long ago -- because it distracts attention from the woeful performance of the senior military leaders who have really made a hash of the Iraq insurgency. I remember General Swannack in particular blaming Rumsfeld for Abu Ghraib. I'll saddle Rumsfeld with about ten percent of the blame for Abu Ghraib, the other ninety percent rests with the senior American military leaders in Baghdad… (General Ricardo) Sanchez being number one. So again, if one is an enthusiast for American military supremacy, we have some serious thinking to do about the quality of our senior leadership. Are we picking the right people to be our two, three, and four-star commanders? Are we training them, educating them properly for the responsibilities that they face? The Iraq War has revealed some major weaknesses in that regard."
Click here to read the full interview. (TomDispatch, May 22, 2006)
Amir Taheri: "Fantastic Credibility"
Iran's "Nazi" Clothing Laws: Anatomy of a Media Hoax
Last Friday saw a flurry of stories going up across the media and the blogosphere claiming that Iran's parliament had adopted legislation that would compel all non-Muslim minorities to wear strips of cloth on their clothing identifying themselves as such to others. Naturally, the idea that Iran's Jews would be forced to wear yellow, just like the yellow Star of David that Nazi laws forced Jews to wear, created a connection between the Iranian regime and the Nazis, which was exactly the intention of its author. The story spread virally before anyone noticed that it was all based on a single story in Canada's National Post, in which no sources or evidence was offered in support of the claim. No sooner had the reports begun to appear than even in Israel, a consensus quickly emerged among Iran watchers that they were bogus, although that didn't stop government officials in the U.S., Canada and Australia, as well as various Jewish human rights groups, from issuing fierce denunciations -- which, in turn, actually reinforced the sense that the story may have been valid.
Taheri stuck by his story, but the paper that originally published it beat a hasty retreat. The same afternoon, they'd published an article expressing skepticism over the claims, and this week the National Post formally apologized for running a story that it now says is not true.
Jim Lobe explains that the story was fabricated on the basis of a parliamentary discussion over a national dress code, which in reality it had no reference to minorities, and appeared directed more at Iranian women. A Jewish member of parliament in Iran, Maurice Motamed, was incensed, and said the story was a "fabrication" and "an insult" to Iran's minorities. But some of the newspapers aligned with neoconservative politics that had first amplified the story refused to let it go. Perhaps it fit too well with their beating of the war drums against Iran.
Writes Lobe, "the (New York) Sun, without endorsing the specific contents of the National Post articles, refused to drop the story, quoting 'a leading spokesman for Iranian Jews,' the secretary general of the Iranian American Jewish Federation in Los Angeles, Sam Kermanian, as thanking 'the world for its outcry' over the original reports and praising Taheri as 'someone with fantastic credibility'. " Perhaps someone ought to apprise Kermanian of the etymology of "fantastic." (Asia Times, May 24, 2006)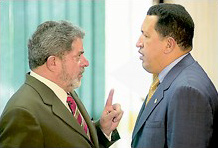 Different Paths: Brazil's Lula and Venezuela's Chavez
Left vs. Left in Latin America
It has long been self-evident that the Left has turned back the tide in Latin America since the triumph of U.S. geopolitical and economic perspectives at the end of the 1980s. A decade of neo-liberal economics has done little to lift much of the region out of poverty, and has only deepened the divide between rich and poor. And Latin American nations have seen countries such as Argentina prove that the sky does not fall in when even deeply troubled nations buck the IMF.
"Starting with Hugo Chávez's victory in Venezuela eight years ago and poised to culminate in the possible election of Andrés Manuel López Obrador in Mexico's July 2 presidential contest, a wave of leaders, parties, and movements generically labeled "leftist" have swept into power in one Latin American country after another," writes Jorge G. Castañeda. "After Chávez, it was Lula and the Workers' Party in Brazil, then Néstor Kirchner in Argentina and Tabaré Vázquez in Uruguay, and then, earlier this year, Evo Morales in Bolivia. If the long shot Ollanta Humala wins the April presidential election in Peru and López Obrador wins in Mexico, it will seem as if a veritable left-wing tsunami has hit the region. Colombia and Central America are the only exceptions, but even in Nicaragua, the possibility of a win by Sandinista leader Daniel Ortega cannot be dismissed."
Indeed, as the furor over the announcement by Bolivia's new populist leader Evo Morales that the country's hydrocarbons would be nationalized demonstrates, today the major political contest in Latin America is no longer between Left and Right, but between two contending outlooks on the Left. "One is modern, open-minded, reformist, and internationalist, and it springs, paradoxically, from the hard-core left of the past," he writes. "The other, born of the great tradition of Latin American populism, is nationalist, strident, and close-minded. The first is well aware of its past mistakes (as well as those of its erstwhile role models in Cuba and the Soviet Union) and has changed accordingly. The second, unfortunately, has not."
He offers a thoughtful history of the Left in Latin America, establishing the factors that have driven the emergence of what he terms the "right Left" (as opposed to the "wrong Left" personified by Chavez). Much more European and Centrist in outlook, it remains the region's best hope for democratic development. Castañeda warns against a knee-jerk Cold War type response to the provocations of Chavez, suggesting that the more aggressive the response from Washington, the more damaging the outcome will be to both U.S. and Latin American interests. The more centrist Left of Mexico, Chile, Argentina and Brazil ultimately have the policies that negate the Venezuelan leader's posturing, but if he becomes the object of a renewed push into the region by the politically discredited administration in Washington, Chavez will emerge the winner. (Foreign Affairs, May-June 2006)


Ahmedinajad: Scary, perhaps, but he's not in charge
Iran's President Rattles Sabers, But He Doesn't Call the Shots
Memo to the editors of America: Mahmoud Ahmedinajad does not, repeat NOT, rule Iran. Executive power in the Islamic Republic, and particularly control over foreign policy and security issues, is ultimately in the hands of unelected clerics -- and Ahmedinajad is not one of them. While the U.S. news media seemed well apprised of this fact during the presidency of the reformist Mohammed Khatami, for some reason it has been forgotten now that Iran is ruled by a conservative populist who loves making wild threats, particularly where Israel is concerned. That may be grist to the mill for those seeking to make the case that Iran represents a global menace -- and the Iranians have themselves to blame for not speaking with one voice -- but Ahmedinajad's rants do not represent Iran's positions. So, when the U.S. media reports that Iran has called off talks with the U.S. over Iraq because Ahmedinajad has said they're no longer necessary, it behooves editors to dig a little deeper, for the simple reason that Ahmedinajad does not make foreign policy.
Executive authority over all matters of foreign policy and national security remains in the hands of the Supreme Leader, Ayatollah Ali Khameini, who, incidentally, backed the candidacy of former President Ali Akbar Hashemi Rafsanjani against Ahmedinajad's. The Supreme Leader, of course, tends to consult on these matters and follow the consensus on the National Security Council, a body of about a dozen figures, including representatives of the Expediency Council, chaired by Rafsanjani, and the heads of the security forces, as well as President Ahmedinajad. But his voice is simply one of many, and he has to lobby for his positions -- which is one reason he spends so much time making demagogic speeches designed to rally popular support for his uncompromising positions.
The National Security Council is chaired by Ali Larijani, who also ran for president against Ahmedinajad. And Larijani, who is in charge of Iran's negotiations over the nuclear issue, as well as the proposed talks with Washington over Iraq, reports not to the president, but to the Supreme Leader. And the message projected by Larijani is quite different from that of Ahmedinajad. For example, the U.S. press reported Ahmedinajad's threat that Iran might withdraw from the Non Proliferation Treaty, but Larijani explains why this is not necessary. Still, Iran's ambiguous communication with the world works to the advantage of hard-liners in the West, while Iranian pragmatists are increasingly worried about the damage being wrought by Ahmedinajad's reckless rhetoric. Iran's nuclear policy is increasingly the focus of an escalating power struggle within the Tehran regime, but that in itself should alert Western journalists and editors to the fact that as juicy as his quotes may be, Ahmedinajad's bluster can hardly be construed as Iran's policy. (Time, April 20, 2006)
The Poor Man's Air Force
Mike Davis provides a fascinating history of the car-bomb and its evolution as a weapon in contemporary conflict, from its roots among anarchists in New York through its uses by both sides in Israel-Palestine in the mid 1940s, through internecine Mafia wars in Sicily in the early 1960s via Algeria, to more contemporary incarnations in Beirut, Ireland and Sri Lanka. Davis explores the emergence of the technology that levels the playing field in destructive power between conventional armies and terror outfits. Summarizing their advantages, he notes the following:
"First, vehicle bombs are stealth weapons of surprising power and destructive efficiency. Trucks, vans, or even SUVs can easily transport the equivalent of several conventional 1,000-pound bombs to the doorstep of a prime target. Moreover, their destructive power is still evolving, thanks to the constant tinkering of ingenious bomb-makers. We have yet to face the full horror of semi-trailer-sized explosions with a lethal blast range of 200 yards or of dirty bombs sheathed in enough nuclear waste to render mid-Manhattan radioactive for generations.
"Second, they are extraordinarily cheap: 40 or 50 people can be massacred with a stolen car and maybe $400 of fertilizer and bootlegged electronics. Ramzi Yousef, the mastermind of the 1993 attack on the World Trade Center, bragged that his most expensive outlay was in long-distance phone calls. The explosive itself (one half ton of urea) cost $3,615 plus the $59 per day rental for a ten-foot-long Ryder van. In contrast, the cruise missiles that have become the classic American riposte to overseas terrorist attacks cost $1.1 million each.
"Third, car bombings are operationally simple to organize. Although some still refuse to believe that Timothy McVeigh and Terry Nichols didn't have secret assistance from a government or dark entity, two men in the proverbial phone booth -- a security-guard and a farmer -- successfully planned and executed the horrendous Oklahoma City bombing with instructional books and information acquired from the gun-show circuit.
"Fourth, like even the 'smartest' of aerial bombs, car bombs are inherently indiscriminate: "Collateral damage" is virtually inevitable. If the logic of an attack is to slaughter innocents and sow panic in the widest circle, to operate a "strategy of tension," or just demoralize a society, car bombs are ideal. But they are equally effective at destroying the moral credibility of a cause and alienating its mass base of support, as both the IRA and the ETA in Spain have independently discovered. The car bomb is an inherently fascist weapon.
"Fifth, car bombs are highly anonymous and leave minimal forensic evidence. Buda quietly went home to Italy, leaving William Burns, J. Edgar Hoover, and the Bureau of Investigation (later, to be renamed the FBI) to make fools of themselves as they chased one false lead after another for a decade. Most of Buda's descendants have also escaped identification and arrest. Anonymity, in addition, greatly recommends car bombs to those who like to disguise their handiwork, including the CIA, the Israeli Mossad, the Syrian GSD, the Iranian Pasdaran, and the Pakistani ISI -- all of whom have caused unspeakable carnage with such devices.
In his followup piece, he examines the politics of some of the groups using car bombs and how the weapon interacts with those. He also notes that car bombing and IEDs in Iraq have forced an occupation authority to retreat into the tiny quadrant of the capital known at "The Green Zone." (TomDispatch, April , 2006)