Hiking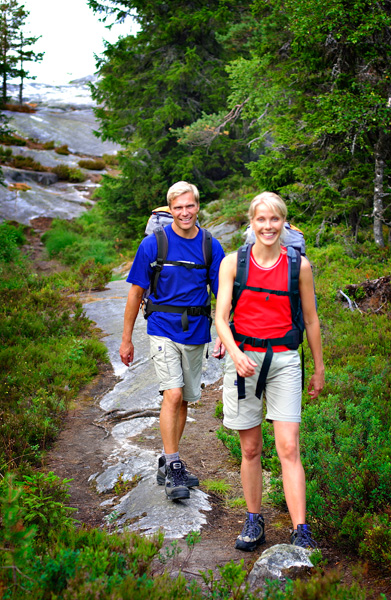 Before going on a hike read the safety information at the bottom of this page.
Geneva is surrounded by a hiker's paradise and there are a great variety of walks you can do.  There are mountains, forests, lakes and vineyards in Switzerland and neighboring France.  Geneva has two mountain ranges  close by; the Alpes and the lower altitude Jura Mountains. SwitzerlandMobility has an excellent website with hikes and itineraries around the country.  There is also a very good navigation app you can download:
For the equivalent for hiking in France go to :

 www.randos-montblanc.com
Suggestions around Geneva
Mont Saleve – 1379mts
The closest mountain is La Saleve in France.  This hike is a must do when you are here and has great views Mont Blanc and the Rhone Valley, restaurants and bars.  You can get to it easily with the Number 8 bus to the French border crossing (Veyrier-Douane), do not take the  number 8 Veyrier-Tournettes bus which goes to a different destination. From the bus stop you walk across the border to the cable car, and either walk up from there or take the cable car (get a return ticket).  It is a quite demanding 800 meter assent on foot for people who are physically fit and who are use to mountains.     
La Saleve cable car:  www.telepherique-du-saleve.com.
Note:  Check the cable car opening times on their website.  It is normally closed November to January.
If you do want to walk up rather than take the cable car there are volunteers who guide hikers up every Sunday morning.  Meeting at 10am at the  Veyrier-Douane bus stop.  You should check their website and contact them to confirm the walk is happening: 
The Association Genevoise:  www.rando-saleve.net
Saint Cergue and Le Col de la Givrine – 1600 mts
Some great local hiking to be had here in the Jura mountains.  You can start your walk from the Givrine train station – 1.15 mins train journey from Geneva. It offers spectacular views of the lake valley from the summit.     http://www.wanderland.ch/en/routes/route-0116.html
Les Vignobles de Lavaux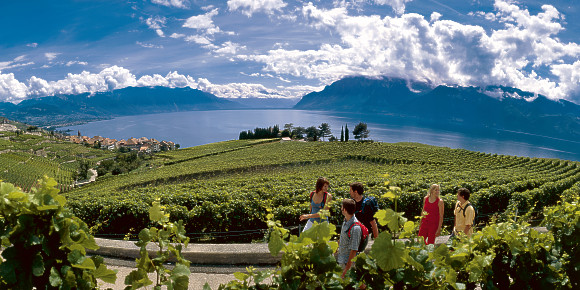 A great walk through the vineyards near Lausanne is called the Balade dans les Vignobles de Lavaux, a UNESCO heritage site.  Start your walk from Saint Saphorin  – only an hour and a half from Geneva.
http://www.wanderland.ch/en/routes/route-0113.html
Check out the Vallon de La Laire: here some of the best Swiss wines are grown and the charming river scenery beckons.  Starting point La Plaine train station:
http://www.myswitzerland.com/en/interests/hiking1/hiking-suggestions/autumnal-walks/geneva-in-the-vallon-de-la-laire-where-switzerland-adjoins-france.html
Wine Road and Nature Studies Trail:
http://www.myswitzerland.com/en/interests/hiking1/hiking-suggestions/autumnal-walks/wine-road-and-nature-studies-trail-in-dardagny.html
Another walk that has an historical WWII connotation would be the Toblerone trail:  here you can follow a trail of cement blocks that the Suisse placed in the 40′s to stall any attempted German invasion of Switzerland:
Other suggestions in Switzerland
The Swiss William Tell Path: the-swiss-william-tell-path
Sentiero Verzasca: the-swiss-white-water-trail
National Park Trail: The Swiss Family Trail: the-swiss-family-trail
Aletsch Panoramaweg: The Swiss Glacier Trail: -the-swiss-glacier-trail
For organised hikes and professional guides see:
Hiking can be a lot more enjoyable and less risky if you hire a professional guide.  Guides will show you safe routes and are trained to deal with emergency situations.  To find approved guides you should contact the tourist information office of the resort or region you want to go to.  You can also try the links below for organised hikes:
https://www.sac-cas.ch/en/The Swiss Alpine Club
www.scig.ch Geneva Ski Club – also organises hikes in the Winter and Summer
www.alpinehikers.com Guided package tours for one week – American company
www.geneverando.ch Guided tours
Safety
Hiking in the mountains is enjoyable but it can also be physically demanding and dangerous.  Common mistakes for walkers to make are to go out without the right clothing, equipment and provisions.  To go out in bad weather.  To get lost.  To do hikes that are too difficult.
The right gear: Look at What to Pack to see what you should wear for a hike.  If you don't have the necessaries go to Ochsner Sport on Rive High Street to get kitted out.  Otherwise there is Gosport in France, they are cheaper:  http://www.shopping-etrembieres.com/.  For cheap hiking shoes/boots go to Dosenbach next door to McDonalds on Rive high street.
The right conditions: Always check the weather forecast before hiking.  Do not go at altitude if bad weather is forecast.
http://www.meteosuisse.admin.ch/web/fr.html
The right knowledge: Always have a detailed map and compass.  Navigation apps on smartphones can make finding your way a lot easier, but they will not work if you loose cellphone reception in the mountains.  Signs can be moved or blown over, so you should not depend on them.  If you are planning a long – high altitude hike you should hire a professional guide.  Hike in groups of three or more.  Don't hike alone!
Do itineraries that suit your ability and fitness. Most hikes are done between 600 and 2500 meters.  At 2500 meters you have the Summer snow line and hiking above this height normally requires more specialized equipment and knowledge.  The human body's ability to absorb oxygen starts to reduce from 2100 meters (see: wiki/Effects_of_high_altitude_on_humans ).   Hikes that involve a lot of ascending and descending are far more demanding than those which are on quite flat terrain.