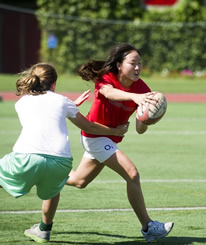 The Women's Rugby Football Club competes in Division I of the New England Rugby Football Union (NERFU). The club is composed of members of all skill levels. In the fall, the club engages in competitive NERFU matches during the regular season and concludes the season with playoffs. In the spring, the club competes in numerous tournaments, including the Beast of the East tournament and the Northeast Regional tournament. Beginners are highly encouraged to join the team.
Check out the team's event center for their upcoming schedule or past results!
Donate Now

Interested in donating to the Women's Rugby Club? Please visit the Terrier Pride Online Gift Form and select "Friends of Women's Rugby". All donations are tax-deductible and go directly to the club of your choice.

Donate