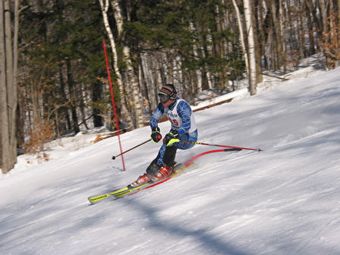 The Boston University Ski Racing Club is a competitive team that is affiliated with the Eastern Collegiate Ski Conference (ECSC) of the United States Collegiate Ski & Snowboard Association (USCSA). The team is 1 of 11 participating schools and universities that compete in the Thompson Division of the ECSC.
The team consists of men and women of all racing abilities who train on and off the snow throughout the year. Member ability level ranges from experienced racers, to freestyle skiers converted to racing, to skiers interested in learning how to smash gates like the best. Traveling for six weekends each winter, this team is dedicated to chasing the snow, pushing the limits of speed, and having fun regardless of what Mother Nature brings.The team practices are held at nearby Nashoba Valley.
Practice Schedule
Day
Location
Wednesday
Nashoba Valley
For the most updated schedule, please contact a club officer.
Donate Now

Interested in donating to the Ski Racing Club? Please visit the Terrier Pride Online Gift Form and select "Friends of BU Ski Racing." All donations are tax-deductible and go directly to the club of your choice.

Donate