Feel the music.
Get your body moving in one of our high-energy dance classes! Whether you've been dancing for years or are just beginning, we have classes at all experience levels. We offer many of the dance classics such as ballet, jazz, pointe, and tap, as well as some exciting new classes like salsa and merengue ballroom dance, Bollywood/Bhangra fusion, Caribbean cardio, and Afro-jazz!
Taking a dance class at FitRec will increase your flexibility; improve your endurance; help you maintain your current weight or lose weight; strengthen your muscles, bones, and joints; and boost your mood! Not to mention that dancing is a wonderful way to relieve stress and leave the worries of the day behind!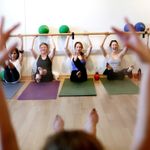 Featured Class: Barre ReMix

Using the ballet barre and props, such as weights and therabands, we will mix it up with exercises from more traditional Ballet Barre, resistance training and cardio classes. A more intense workout than our Ballet Barre class, the exercises will engage your major and minor muscle groups to build strength and length.

Learn More
Classes for Academic Credit

Did you know we offer dozens of classes for academic credit?

Browse & Register