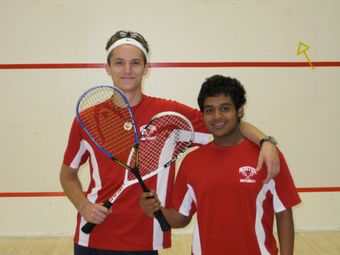 The Boston University Squash Team is a highly competitive club team. At the beginning of each year we hold tryouts that are open to all undergraduates. We keep 15 players on our practice squad and the 9 best players represent BU in intercollegiate squash competitions. The team holds a two-hour practice three times a week, in which we train, drill, and play challenge matches. The collegiate squash season runs from September to late February, with 10–12 matches ranging in location from Boston to Maine. We also have the opportunity to compete in College Squash Association's annual Team Nationals tournament at the end of each season—played at Yale, Princeton, or Harvard. The BU squash team is always open to new members and looks to spread its reputation as a competitive team in the collegiate squash world.
Check out the team's event center for their upcoming schedule and past results!
Donate Now

Interested in donating to the Squash Club? Please visit the Terrier Pride Online Gift Form and select "Friends of Squash." All donations are tax-deductible and go directly to the club of your choice.

Donate