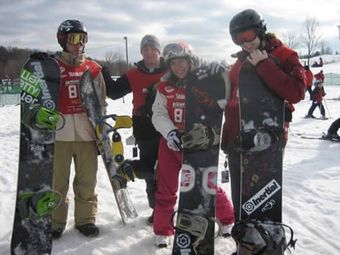 The Boston University Snowboarding Team (BUST) offers students of all skill levels the opportunity to snowboard from November through April. Most of the 150-plus members in the club ride for recreation. However, members are encouraged to participate in competitions. The team is affiliated with the United States of America Snowboard Association (USASA) and competes in events in the Southern Vermont series. During spring semester, members of BUST volunteer in the Burton Chill Program, where each member helps teach inner-city kids how to ride. Team meetings throughout the season are held every Wednesday night at 9 p.m. in CAS B50 (basement of CAS).
Check out the team's event center for their upcoming schedule and past results!
Donate Now

Interested in donating to the Snowboarding Club? Please visit the Terrier Pride Online Gift Form and select "Friends of Snowboarding." All donations are tax-deductible and go directly to the club of your choice.

Donate