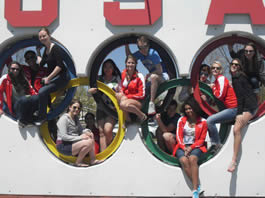 The Boston University Figure Skating Club is a competitive, nationally ranked intercollegiate figure skating team composed of skaters of all levels, from Preliminary through Senior, and disciplines, including Freestyle and Ice Dance. The BUFSC competes in from two to three Eastern Section qualifying competitions and Intercollegiate Team Nationals. Members are allowed to skate on any of our 15 hours/week of open practices.
Check out the team's event center for their upcoming schedule!

Donate Now

Interested in donating to the Figure Skating Club? Please visit the Terrier Pride Online Gift Form and select "Friends of Figure Skating." All donations are tax-deductible and go directly to the club of your choice.

Donate